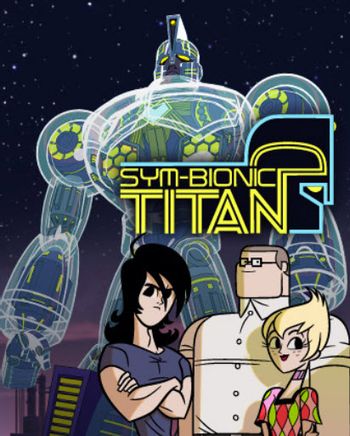 Sym-Bionic Titan was an animated series created by Genndy Tartakovsky, Paul Rudish and Bryan Andrews for Cartoon Network.
A hybrid of high school drama and giant robot battles, Sym-Bionic Titan follows the adventures of three beings from the planet Galaluna: Princess Ilana, her bodyguard Lance, and their Robot Buddy Octus. Escaping from their home from the advance of the powerful General Modula, they crash-land in Sherman, Illinois and pose as high school students. However, Modula's forces have followed in pursuit and now they must defend their new home from his many monsters with their mechs. The trio also must deal with the enigmatic Solomon, as well as the brash General Steel.
Sym-Bionic Titan was cancelled on March 29, 2011 due to Cartoon Network being unable to acquire a toy license
, and in September 2014, the network officially wrote off the show for financial purposes
. Supposedly, this meant the show would no longer be able to air online or on television in any form. Fortunately, that changed in 2018, when Ilana and Octus (in his Newton form) briefly appeared in the "Crossover Nexus" episode of OK K.O.! Let's Be Heroes, with the former getting a brief line due to her VA Tara Strong already being in the special as Raven and Ben 10.
On December 15, 2019, the entire series was made available for streaming on Netflix, but was taken off a year later.
---
Sym-Bionic Titan provides examples of the following tropes:
open/close all folders
#-E
Expy

Baron bears a resemblance, in both personality and appearance, to Draco from the Harry Potter series.
Ilana's bodyguard in "Escape from Galaluna" is basically Race Bannon.
Jason looks exactly like Hiccup from How to Train Your Dragon and Cody from Total Drama.
Steve "Babyface" Stevens, the spy in "Disenfranchised," bears a remarkable resemblance to Archie.
F-K
L-R
S-Z
---
Engaging Sym-Bionic Titan!
---