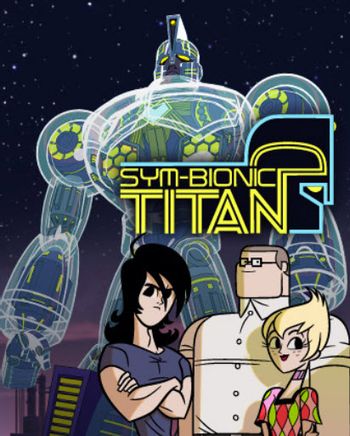 Sym-Bionic Titan was an animated series created by Genndy Tartakovsky, Paul Rudish and Bryan Andrews for Cartoon Network.
A hybrid of high school drama and giant robot battles, Sym-Bionic Titan follows the adventures of three beings from the planet Galaluna: Princess Ilana, her bodyguard Lance, and their Robot Buddy Octus. Escaping from their home from the advance of the powerful General Modula, they crash-land in Sherman, Illinois and pose as high school students. However, Modula's forces have followed in pursuit and now they must defend their new home from his many monsters with their mechs. The trio also must deal with the enigmatic Solomon, as well as the brash General Steel.
Sym-Bionic Titan was cancelled on March 29, 2011 due to Cartoon Network being unable to acquire a toy license
, and in September 2014, the network officially wrote off the show for financial purposes
. Supposedly, this meant the show would no longer be able to air online or on television in any form. Fortunately, that changed in 2018, when Ilana and Octus (in his Newton form) briefly appeared in the "Crossover Nexus" episode of OK K.O.! Let's Be Heroes, with the former getting a brief line due to her VA Tara Strong already being in the special as Raven and Ben 10.
On December 15, 2019, the entire series was made available for streaming on Netflix, but was taken off a year later.
---
Sym-Bionic Titan provides examples of the following tropes:
open/close all folders
#-E
2D Visuals, 3D Effects:

The Titan, though it surprisingly works.
Some of the monsters, on the other hand...
The Mutraddi in "Escape from Galaluna" get special mention, for being the most obvious to date.

Ace Custom: Ilana's mech, Corus, is implied to be this since no others like it were ever shown. Lance uses a standard issue Manus armor with a slightly different color scheme; the Combining Mecha aspect probably isn't standard, though, since the King passed him a new model (his old one had been confiscated) before sending him off.
Acting Unnatural: In "Lessons in Love", Newton and Kimmy are about to kiss when Lance and Ilana burst in. Newton randomly shouts out the word "Parallelogram!" and extends his book pages forward towards Lance and Ilana, while Kimmy opens her book upside down.
Action Bomb: Tashy 497, of the explodes when killed (or just when it dies) variety.
Action Film, Quiet Drama Scene: A lot of episodes.
Action Girl

Ilana. Not nearly as action-y as Lance, but she can still hold her own.
Kristin (the Goth girl) was also revealed to be one in "Under the Three Moons" when shown practicing martial arts.

Added Alliterative Appeal: Galactic Guardian Group (G3 for short).
Adults Are Useless: In "Shadows of Youth", none of the teachers do anything about Baron bulling Lance.
Aerith and Bob: Within Galaluna, Lance, Edward (Lance's father), and Arthur vs. Baron, Ilana, and Modula.
Affably Evil: After being knocked across the room into a table covered with food dishes, Xeexi pauses to taste the food and say how nice it is before continuing the fight.
An Aesop:

"The Phantom Ninja" had a healthy-eating Aesop, which also served as a metaphor for the actual plot of the episode involving Lance's boredom with Earth life. The blandness of the good food is Lance's boredom with Earth, but he later realizes that even though it's bland at first, it has qualities that are good for him in the long run. Kids will understand the health message, but older audiences will see the subtext.
"Lessons in Love," which is most remembered for the "Booty Quake" scene, actually did deliver a rather subtle aesop where Octus all but told Kimmy she didn't need to act like a ditzy airhead just because society expects her to act that role.

Throughout the episode "Elephant Logic", the neighborhood kids are able to solve their problems efficiently thanks to the lessons from their Animal Buddies show, while Lance and Ilana are stuck squabbling. After checking out what Animal Buddies has to say, Octus realizes that one shouldn't write off these morals for little kids, as there are many grown-ups who could stand to learn them.
All There in the Script: Several characters that are not called by name in the show have their names listed in the credits. This applies to most of the human cast and even some of the aliens. For instance, the Goth girl who likes Lance in "The Ballad of Scary Mary" is named Kristin, and the Mutraddi frog creature in "The Demon Within" is named Muculox.
Airborne Aircraft Carrier: G3's headquarters.
Aliens Speaking English

And if Octus' scans are right, they breathe similar gases, too. If we think that the king explicity sent his daughter to that particular planet, we can consider that just because our planet is like Galaluna, he sent her to Earth.
All of the Mutraddi (the intelligent ones anyway) speak English as well.

All Girls Want Bad Boys: One of the reasons all the girls at Sherman High are into Lance. Octus even lampshades it at one point when Lance is being swarmed by fangirls.

Ilana: I don't get it.
Octus: Dark hair, bedroom eyes, moody demeanor. I totally get it.

Ambiguously Gay: Todd, a member of the student council who only appeared in "Under The Three Moons" shows a lot of these mannerisms. He wears a pink polo shirt with a light blue sweater draped over his shoulders and tight pants and he appears to be wearing earrings. He is also flamboyant, speaks with a lisp, and skips when excited. He even loves to decorate things and he approved of Ilana's idea to make the homecoming theme Galalunian because a lot of their culture fitted in with his campy interests.
Animation Bump: The show has always looked good, but some episodes are simply gorgeous with feature film-quality animation; a good example is "Escape From Galaluna." The entire episode is simply beautiful.
Appropriated Appellation: The "Titan" part of the robot's name is added after it's referred to as one by the Earth media.
Auto Erotica: The teens in "Roar of the White Dragon" get as close to this trope as is possible on Cartoon Network.
Back from the Dead:

Octus

is revived by the leader of G3.
Back-to-Back Badasses: Lance and Solomon in "The Fortress of Deception." Not only is it awesome, it's a plot point, since Solomon should not know the martial art Lance uses. Ilana and Lance do this later in the same episode just before they get their watches back.
Expy

Baron bears a resemblance, in both personality and appearance, to Draco from the Harry Potter series.
Ilana's bodyguard in "Escape from Galaluna" is basically Race Bannon.
Jason looks exactly like Hiccup from How to Train Your Dragon and Cody from Total Drama.
Steve "Babyface" Stevens, the spy in "Disenfranchised," bears a remarkable resemblance to Archie.
F-K
L-R
S-Z
---
Engaging Sym-Bionic Titan!
---