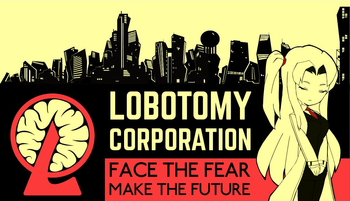 Every Abnormality may not have a reason to exist, but they all have a will to persist.
Congratulations, and welcome to your new job as a site manager for The Lobotomy Corporation, the newest company in the innovative new field of energy production! We at the Lobotomy Corporation have discovered a new untapped source of energy... monsters of mysterious origin. As the manager, your job is to oversee the facility you have been assigned to and make sure that everything is running smoothly. That includes hiring new agents, researching the monsters you've been assigned, and finding the best way to get the highest amount of energy out of them... aaaaaand dealing with the occasional containment breach, during which agents are likely to be murdered and/or go insane.
But don't worry, we're not going to make you do this by yourself. You'll be assisted by our new A.I., Angela, who will help you in overseeing the facility by sending your orders to the agents who work there, and perhaps engage in some stimulating conversation with you when you're off the clock.
Lobotomy Corporation
is a Space-Management Game developed and published by South Korean independent video game studio Project Moon, inspired by SCP Foundation, The Cabin in the Woods, and Warehouse 13. It was released on Steam on December 16th, 2016, and was in Early Access until April 9th, 2018.
As of January 2019, Project Moon has cancelled their plan for DLC for the game and has since turned their attention to the Actionized Sequel Library of Ruina. Trailer here.
Warning: Late-Arrival Spoiler for the end of Lobotomy Corporation. They've also released such projects like Wonderlab, a comic collaboration with Korean artist MIMI
focusing on Lobotomy Corporation itself, and The Distortion Detective, a novel tie-in which focuses on a detective solving cases relating to the "Distortion" phenomena, both of which would expand upon the world and lore of Lobotomy Corporation and Library of Ruina. There is also HamHamPangPang
, a Real Life bakery/cafe in Suwon, South Korea, that sells themed menus and merchandise of Lobotomy Corporation and Library of Ruina, along with various related media in The 'Verse.
In May 2020, Lobotomy Corporation received a total rehaul of its English translation that would make various changes to every aspect of the game, including abnormality names and story dialogue.
Because a major part of the game involves experimentation and discovering what the Abnormalities do, beware of unmarked spoilers.
---
Lobotomy Corporation provides examples of:
---