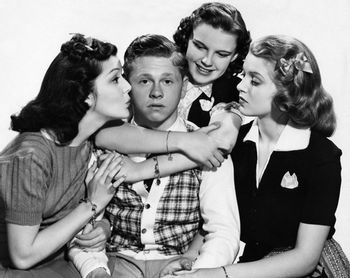 Love Finds Andy Hardy (1938) is the fourth film in the Andy Hardy movies that ran for 15 films from 1937 to 1946, with a 16th in 1958. It was directed by George B. Seitz, and it stars Mickey Rooney, Judy Garland, and Lana Turner.
This edition sees young Andy confronted with all sorts of serious problems, namely that he wants to buy a used car for $20 but he only has $12, and he really needs the car before the Christmas Eve dance, and even worse, his steady girlfriend Polly is leaving to visit family for Christmas, depriving Andy of a date for the dance. Seemingly both problems are solved at once when Andy's friend Beezy, who is also being summoned away to visit family for the holidays, asks Andy to court his girlfriend Cynthia (Turner), with Beezy willing to pay Andy $8, just to stop any other boy from swooping up Cynthia. Andy is pretty happy about courting luscious Cynthia while earning the money for his car—but his plans are ruined when Beezy sends him a letter stating that Beezy has found another girl and the deal is off. Worse, Polly is allowed to come home early and join Andy for the dance, which leaves him with two girls and no car. The situation is further complicated when another girl, Betsy Booth (Garland), who is visiting for the holidays, also falls for Andy.
Love Finds Andy Hardy was the movie where the Andy Hardy series started to come together after quite a bit of Early Installment Weirdness in the first three films. Specifically, this was the first film in the series to put the character of Andy front and center, with his name in the title. It helped propel Mickey Rooney to super-stardom. This particular installment was one of the first big roles for rising star Lana Turner.
---
Tropes: