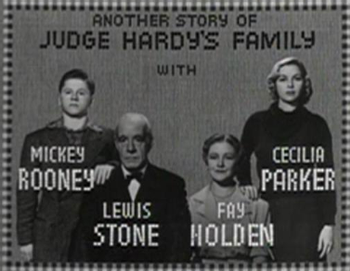 A series of 16 films made by MGM, about the homespun adventures of a Midwestern family: wise patriarch Judge Hardy (Lewis Stone), his wife Emily (Fay Holden), their daughter Marian (Cecilia Parker) and their rambunctious teenage son, Andy (Mickey Rooney). In each film, the family would find themselves embroiled in some minor trouble, only to be saved by the Judge's good advice.
With their combination of comedy, sentimentality, patriotism, and beautiful starlets, the films were hugely popular in their day. There were a whopping 14 films made between 1937 and 1944, which turned Mickey Rooney into the top box-office draw in the world, launched the careers of several actresses, and turned the Hardy family into iconic portraits of "true Americans."
After World War II, however, the mood of the country became more cynical and the films became derided for their corniness. The one movie made immediately after the war was a flop, as was a nostalgic reunion movie made in the 1950s. Despite their enormous success in their heyday, the movies, aside from those starring Judy Garland, haven't been seen much since.
---
Andy Hardy films with their own work pages:
---
Other films in this series provide examples of:
---