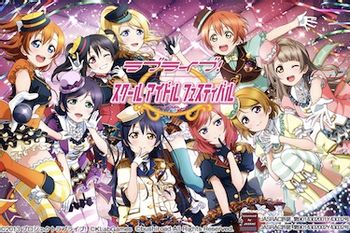 Love Live! School idol festival was a Rhythm Game developed by KLab and published by Bushiroad for the Android and iOS platforms as part of the Love Live! multimedia franchise. It was released in Japan on April 16, 2013, and worldwide on May 11, 2014.
The game's core gameplay revolves around the player's team of 9 idols, each member of which is represented by a circular rhythm icon, with the 9 icons forming a downward half-circle. As notes spawn from the top of the screen towards the icons, the player must hit their corresponding icons when the notes overlap to score points. There are five note judgements: Perfect, Great, Good, Bad, and Miss, with anything below a Great breaking the player's combo and inflicting damage to the Life Meter. Occasionally, there are hold notes that must be held down and then released when the note ends, and double notes that must be hit at the same time, as well as star notes that deplete extra HP if they break the player's combo. The song is cleared when the player reaches the end with HP remaining, and failed if you run out.
Unlike most rhythm games, the player's score is not strictly dictated by note accuracy or combo. Each member has three different Attributes: Smile, Pure, and Cool, and each song is aligned with one of those three Attributes. The maximum value for hitting a note depends on the song's Attribute and how much value each member has in that attribute, so for example, the player should use a team with a high Smile stat for songs that have a Smile attribute.
The player can pick up new members through one of two basic methods: Regular Scouting, which uses up Friend Points from using other players' Leader characters and typically yields common members and rare members, and Honor Scouting, which guarantees a rare member but also offers a chance at "Super Rare","Special Super Rare" and "Ultra Rare" members and uses Loveca Stones (Love Gems in the English version), which can either be collected in-game in scarce quantities or purchased with real-world money. To level up members, the player can use Practice to have one member earn experience points with the help of other members, but those members leave the roster once used. A member can also be "idolized" through Special Practice with a copy of that member, or a number of seals corresponding its rarity, giving her a new outfit, level roof, score potential and allowing the player to build up Kizuna to unlock her side story.
Twice a month, there are special in-game events where players participate in activities such as score competitions to build up points to unlock SR (Super Rare), SSR (Super Super Rare) and UR (Ultra Rare) members.
An arcade spin-off known as Love Live! School idol festival ~after school ACTIVITY~ was released in 2016. SIF AC features the same core gameplay as the original game, but also introduces systematic and aesthetic expansions such as full 3D CGI performances to accompany gameplay and a physical card system in which the player can collect cards and use them with the game to alter gameplay and performances. It uses Taito's NESiCA cards and infrastructure to allow players to save their play data. This version of the game was ported to the Playstation 4 as Love Live! School idol festival ~after school ACTIVITY: Wai Wai! Home Meeting!!~ on March 24, 2021 and features new exclusive modes and content not seen in the arcade version.
After seven years in service, it was announced in early 2021 that the English version of the game would be officially migrating to the Japanese servers in June 2021 with most data carried over, thereby "ending" the service of the English servers. The game now features bilingual support for the same server, with all future content being identical regardless of whether or not you are using the Japanese or English version of the game.
A sequel, Love Live! School idol festival 2 MIRACLE LIVE! will be released in Spring 2023. The sequel will add Liella! from Love Live! Superstar!! and the Nijigasaki High School Idol Club as major cast members and will feature even more songs from across the entire franchise. The original School Idol Festival was shut down on March 31, 2023 in preparation for the sequel's release.
---
Examples specific to School Idol Festival:
---