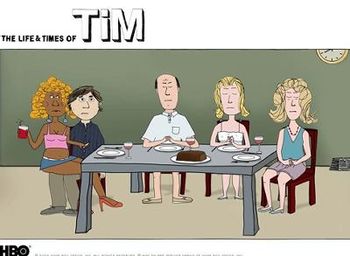 The Life & Times of Tim is an HBO comedy animated television series, created by Steve Dildarian, about a man in his mid-20s named Tim living in New York City with his girlfriend Amy (Mary Jane Otto), who constantly finds himself in increasingly awkward situations. It is the first HBO animated original since Todd McFarlane's Spawn, which ended in 1999. It was originally developed for FOX in 2007, but moved to HBO, where it ran for three seasons.
A Spiritual Successor, Ten Year Old Tom, was released on HBO Max in 2021.
---
This show provides examples of:
Butt-Monkey: Tim (obviously) and sometimes Stu and Rodney.
Camp Gay: The appropriately named "Gay Gary" in Tim's office.
---