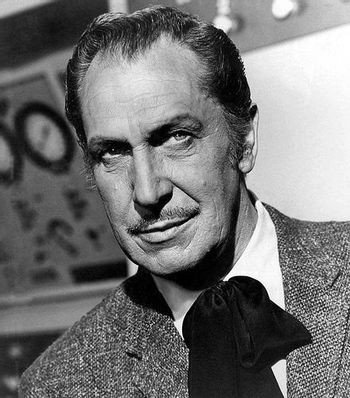 "A man who limits his interests limits his life."
Vincent Leonard Price Jr. (May 27, 1911 — October 25, 1993) was an American actor from St. Louis, Missouri, best remembered for his villainous roles in such horror classics as House of Wax, House on Haunted Hill, The Masque of the Red Death, The Pit and the Pendulum, and The Abominable Dr. Phibes. He possessed a very distinctive voice and the most twirlable mustache you ever saw on a living person.
He also provided the creepy narrator voice and Evil Laugh in Michael Jackson's "Thriller" and Alice Cooper's "Devil's Food." On the 1960s Batman TV series, he had a semi-recurring role as the world's greatest criminal mind, Egghead, notable as one of only two villains on the show (the other being King Tut) to deduce Bruce Wayne's secret identity. He also voiced the Diabolical Mastermind of The Great Mouse Detective, Professor Ratigan (which he would later say was one of his favourite roles). In addition, in 1971 he spent a few days in Canada doing segments for that goofy mainstay of Canadian kids' TV, The Hilarious House of Frightenstein, with his segments being distributed among the series' impressive 130-episode run. In the 1970s Price also lent his face and name to a number of novelty products, such as a kit that allowed children to create their own shrunken heads (using only apples, unfortunately) which was advertised in comic books throughout that decade.
With the possible exceptions of Boris Karloff and Peter Lorre, Price has the most homaged and imitated voice when it comes to evil cartoon characters. Hell, he even lent his own voice to some of those homages: he appeared in The 13 Ghosts of Scooby-Doo as Vincent van Ghoul and narrated Tim Burton's animated short film Vincent. His other television credits include hosting the 1980s PBS series Mystery! and the 1950s Game Show turned interview show ESP.
Price was good friends with the two great Hammer Horror actors, Christopher Lee and Peter Cushing, and starred alongside both of them in various films. Strangely enough, Lee and Price had the same birthday (27 May), and Cushing's birthday was the day before theirs.note Though they were not born in the same year; Price was the oldest, Cushing was born two years (less one day) later, and Lee was born nine years (and one day) after Cushing. One of his closest friends was the above mentioned Peter Lorre, whose eulogy Price read at his funeral.
An extremely progressive person for his time, he publicly denounced racial and religious intolerance as early as 1950, and even got a position on the Indian Arts and Crafts Board under the Eisenhower administration (which he claimed came as a surprise to him, considering he was a Democrat). He immediately came out in support of his daughter when she admitted she was a lesbian, going so far as to decry openly homophobic political figures (and if his daughter is to be believed, this is likely in part due to him having queer tendencies himself).
Highly eccentric, he considered his guest appearance on The Muppet Show a "tremendous honour" (before the show really became a worldwide sensation), in a similar manner to how major musical artists know they've "made it" when "Weird Al" Yankovic parodies their songs.
---
Works on TV Tropes:
Film
Others
Tropes present in Vincent Price's works:
---
---