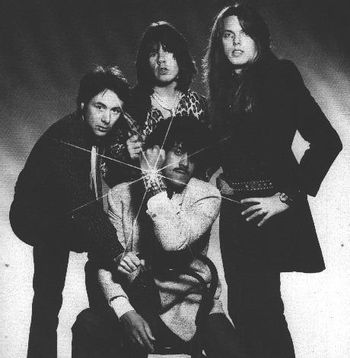 "He's just a boy, that has lost his way
He's a rebel that has fallen down
He's a fool, been blown away
To you and me, he's a renegade"
— "Renegade", from the 1981 album of the same name
Thin Lizzy are a (mostly) Irish rock band originating in 1969, Led by co-founder, bass player/singer and main songwriter Phil Lynott. The name was lifted from The Dandy comic's character "Tin Lizzie", with an alteration of spelling (Dubliners pronounce "th" as "t").
The core members were Lynott and Drummer Brian Downey, with guitar spots filled by a long list of ever changing names, the longest serving of which is Californian guitarist Scott Gorham, who moved to the UK to fill a guitar spot in Supertramp, but was unsuccessful.
When he joined the band in 1974, the original guitarist Eric Bell had been and gone, recording the hit single "Whiskey in the Jar", Thin Lizzy's first major success. Joining Scott in the other guitar role was Glaswegian Brian Robertson, a hot-headed Scottish guitar prodigy, and between them they developed the ground-breaking distinctive twin lead guitar attack which characterizes Thin Lizzy's sound.
They finally found international recognition with 1976's Jailbreak, and Thin Lizzy's other hit, "The Boys Are Back in Town". The band led a career that lasted until 1983, when the band split, and all hopes of recording more original material were crushed forever when Phil Lynott died in 1986, aged just 36. The band regrouped in 1996 without Lynott, but are essentially now just a live tribute to his life and work with no new material recorded or released. The current lineup only performs as Thin Lizzy occasionally, instead opting to record and tour as Black Star Riders.
Thin Lizzy was a unique combination of hard rocking songs about fighting & cool characters, epic guitar parts & harmonies, and sensitive, thoughtful and wide-ranging songwriting. Thin Lizzy are unfortunately still under-appreciated and lesser known compared to their world-famous '70's and '80's contemporaries (they're still mainly only known for two songs, "Whiskey In The Jar" and "The Boys Are Back In Town"), but in their heyday they developed a reputation for being one of the best live bands in the world and once played to a gigantic crowd on the steps of the Sydney Opera House; their Live Album Live and Dangerous is widely regarded as one of the best live albums ever recorded.* Despite the long-running controversy over just how "live" the album is - see Looping Lines in the Trivia tab. They were also one of the few '70s rock bands who weren't dismissed by Punk Rock bands; the punks appreciated Lizzy's directness and grit.
Albums:
Lineup 1 (Phil Lynott on bass & vocals, Brian Downey on drums. With Eric Bell on guitars):

Thin Lizzy (1971), Shades of a Blue Orphanage (1972), Vagabonds of the Western World (1973)

Lineup 2 (with Brian Robertson and Scott Gorham on guitars):

Nightlife (1974), Fighting (1975), Jailbreak (1976), Johnny the Fox (1976), Bad Reputation (1977), Live and Dangerous [live album] (1978)

Lineup 3 (with Gary Moore & Scott Gorham on guitars):

Black Rose: A Rock Legend (1978)

Lineup 4 (with 'Snowy White' & Scott Gorham on guitars & Darren Wharton on keyboards):

Chinatown (1980), Renegade (1981)

Lineup 5 (with John Sykes & Scott Gorham on guitars and Darren Wharton on keyboards):

Thunder and Lightning (1983)
---
"The tropes are back in town":
---