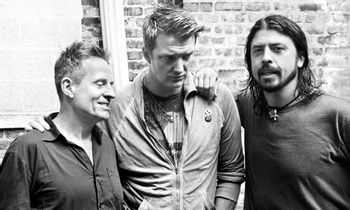 Them Crooked Vultures are a supergroup formed in 2009, consisting of the following members:
When playing live, they are joined by Alain Johannes on guitar, bass, keyboards and backing vocals.
Their debut Self-Titled Album appeared in November 2009, receiving good reviews and decent sales. Their style can roughly be summed up as a Genre Throwback to seventies Hard Rock, or a cross between QOTSA and Led Zep.
---
This band provides examples of:
---