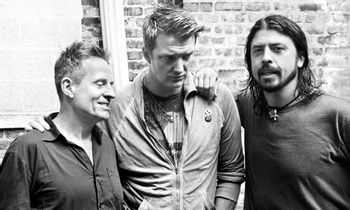 Them Crooked Vultures are a supergroup formed in 2009, consisting of the following members:
When playing live, they are joined by Alain Johannes on guitar, bass, keyboards and backing vocals.
Their debut Self-Titled Album appeared in November 2009, receiving good reviews and decent sales. Their style can roughly be summed up as a Genre Throwback to seventies Hard Rock, or a cross between QOTSA and Led Zep.
---
This band provides examples of:
Epic Rocking: Only three of their songs didn't reach four minutes, with two ("Warsaw or the First Breath You Take After You Give Up", "Spinning in Daffodils") being over 7.
Heroic BSoD: "Scumbag Blues" describes one, inflicted by the Villain Protagonist: "You go cold, like a stare/as if no one could compare/and you will know... despair..."
---