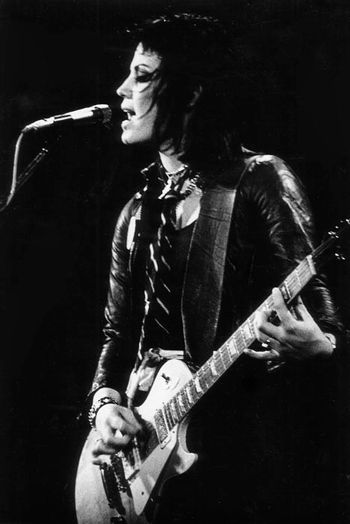 "I love rock and roll, so put another dime in the jukebox baby!"
Joan Jett (born Joan Marie Larkin, September 22, 1958 in Wynnewood, Pennsylvania) is an originator, an innovator, and a visionary. As the leader of the hard-rocking Blackhearts, she's had eight platinum and gold albums and nine Top 40 singles, including the classics "Bad Reputation," "I Love Rock 'N' Roll," "I Hate Myself For Loving You," and "Crimson and Clover." She sits at the head of her own independent label, Blackheart Records. Jett has acted in movies and television, including 1987's Light Of Day and a memorable cameo in Repo! The Genetic Opera; and in a Tony-nominated Broadway musical, The Rocky Horror Picture Show. She has appeared on such acclaimed television shows as Oprah (the last season) and Law & Order. As a producer, she has overseen albums by Bikini Kill, Circus Lupus, as well as The Germs' LA punk masterpiece, GI.
Her music has become a permanent force in mainstream culture. Carrie Underwood sings a parody of "I Hate Myself for Loving You" as the theme for NBC's Sunday Night Football, and her music is heard in countless films and TV shows including Easy A, Kick-Ass, The Runaways, Baby Mama, and many more.
Since co-founding The Runaways, the pioneering all-girl punk quintet, at age 15, Jett's determination and drive have kept her in the public eye. Jett was able to see her story told in The Runaways, the film based on (lead singer of The Runaways) Cherie Currie's book Neon Angel, starring Kristen Stewart as Jett, and her fellow A-lister Dakota Fanning as Currie. Jett was close to the project: she served as an executive producer.
The two discs of the Greatest Hits set, meanwhile, present twenty blazing tracks from Jett's three-decade-plus career. It's a comprehensive look at one of rock's most iconic figures. Of course, the hits collection was released through Jett's own Blackheart Records, a label she founded with long time songwriting partner and producer Kenny Laguna, in 1980 - which made her the first female artist to own and operate an independent record company.
Blackheart Records is currently home to such up-and-coming groups as San Antonio-based female threesome Girl in A Coma (Both Before I'm Gone, Trio B.C., Adventures in Coverland) and Los Angeles' pop-punk trio the Dollyrots (Because I'm Awesome, A Little Messed Up). The label continues to add new artists to its roster.
Jett and the Blackhearts continuously tour across the globe to throngs of adoring fans. Joan Jett has spent her lifetime breaking barriers and challenging expectations - this is, after all, a woman who is both a spokesperson for PETA and a devoted supporter of the US Military. She's fought hard for all of her historic accomplishments, yet she remains humble and appreciative.
"I've had a blessed career," she says. "I consider myself so lucky to have been able to do things my own way."
---
Discography:
Joan Jett (1980)
Bad Reputation (1981) - re-issue of Joan Jett on a bigger label
I Love Rock 'n' Roll (1981)
Album (1983)
Glorious Results of a Misspent Youth (1984)
Good Music (1986)
Up Your Alley (1988)
The Hit List (1990)
Notorious (1991)
Pure and Simple (1994)
Evil Stig (1995) - recorded with The Gits
1979 (1995) - fan club only album
Naked (2004) - Japan only
Sinner (2006)
Unvarnished (2013)
Change-up (2021)
---
Associated Tropes:
---