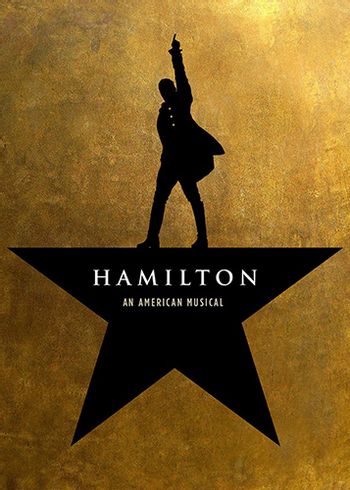 "Alexander Hamilton
When America sings for you
Will they know what you overcame?
Will they know you rewrote the game?
The world will never be the same..."
— Full Company, "Alexander Hamilton"
Hamilton is a musical written by Lin-Manuel Miranda, inspired by the book Alexander Hamilton by Ron Chernow. Opening in February 2015 at the Public Theater, the show moved to Broadway in the summer of 2015 before productions later opened in Chicago and London, after which three U.S. national tours were held.
The musical follows the life of Alexander Hamilton, the United States' first Secretary of the Treasury. Beginning with his arrival in the United States (after writing his way out of his miserable, impoverished situation in the Caribbean), it tracks his rise to power through The American Revolution and early days of Antebellum America, and his inevitable fall.
A defining aspect of the musical is that this is all told through a blend of hip-hop, R&B, pop, and contemporary show tunes, which, like those of Miranda's previous Broadway excursion, will be hard-pressed to leave your head. From the musical's origins in the late 2000s, Miranda pitched Hamilton as "someone [that] embodies hip-hop", stating that his story of rising from squalor through his writing is not dissimilar to the classic Rags to Riches tale integral to the genre.
Featuring a multi-racial castnote to illustrate the point of non-white people reclaiming a history denied to them, in essence making the musical — in Miranda's words — "America then, as told by America now", the original Broadway production stars Lin-Manuel Miranda as Alexander Hamilton, Renée Elise Goldsberry as Angelica Schuyler, Phillipa Soo as Elizabeth Schuyler, Leslie Odom Jr. as Aaron Burr, Christopher Jackson as George Washington, Jonathan Groff as King George III, and Daveed Diggs as Thomas Jefferson and the Marquis de La Fayette.
Inspired by the play, a variety of pop, hip-hop and R&B artists collaborated with Lin-Manuel Miranda to create The Hamilton Mixtape, which was released December 2, 2016, and contains demos, remixes, and covers from Hamilton's soundtrack. One year later, Miranda announced The Hamildrops, a monthly release of Hamilton-related content; the first such "drop" was released December 15, 2017.
Disney released a filmed performance of the original Broadway production on Disney+ on July 3, 2020.
---
Hamilton contains examples of:
open/close all folders
A-G
Call-and-Response Song: "Your Obedient Servant," which is comprised of Hamilton and Burr singing each other the passive-aggressive letters that lead up to their duel.
Call-Back: Early on, Hamilton speculates that dying must be like "a beat without a melody". In the song where he duels Burr (The World Was Wide Enough), he begins rapping after the shot with no orchestral or choral backup.
The Chains of Commanding: When Washington retires, King George states that he "wasn't aware" that giving up power "was something a person could do." It's left ambiguous whether he means that he's flummoxed at Washington's willingness to surrender control, or whether he's jealous that Washington is able to put down the burden of command. In real life, when George III was informed that Washington planned to return to private life immediately following the war, not seizing or even pursuing any kind of political power, he reportedly responded, "If he does that, he will be the greatest man in the world."

King George the III: Oceans rise, empires fall; it's much harder when it's on your call.
H-M
N-R
S-Y
---