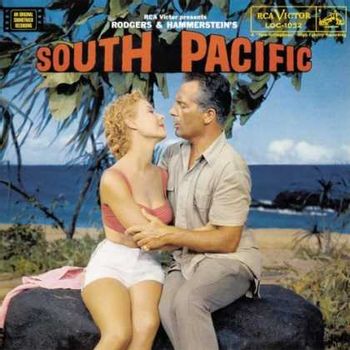 Some enchanted evening, when you find your true love
When you feel her call you across a crowded room,
Then fly to her side, and make her your own
Or all through your life you may dream all alone!
— "Some Enchanted Evening"
South Pacific is a musical by Rodgers and Hammerstein, originally produced in 1949. It was nominated for ten Tony Awards, and won all of them, including the second-ever Tony for Best Musical. South Pacific is also the only musical to win Best Production, Best Direction, and all four acting awards at one time.
Nellie Forbush is a Navy nurse from Arkansas serving in the South Pacific during World War II. She has met a local French plantation owner named Emile de Becque. Lieutenant Joe Cable arrives on the island to take part in a spy mission.
Cable tries to get Emile to agree to be his guide for the mission, but Emile will have none of it. Bloody Mary introduces Cable to a beautiful Tonkinese girl named Liat. Cable is enamored, but is shocked to discover that she is Bloody Mary's daughter. Nellie also makes a discovery about Emile that forces her to face her deep-seated racial prejudices.
Adapted from several stories in James Michener's 1947 book Tales of the South Pacific, the show has several well-known numbers, including "Some Enchanted Evening," "I'm Gonna Wash That Man Right Outta My Hair," "Younger Than Springtime," "Nothing Like a Dame," "Honey Bun," and "Wonderful Guy."
The musical received a film adaptation in 1958, starring Mitzi Gaynor as Nellie and Rossano Brazzi as Emile. It made more money than any other movie of the year. A remake was done in 2001, starring Glenn Close, Harry Connick Jr. and Rade Šerbedžija.
Not to be confused with the 2009 Nature Documentary series.
---
This musical provides examples of:
I Can't Believe a Guy Like You Would Notice Me: Emile and Nellie in "Twin Soliloquies". Nellie worries that a "cultured Frenchman" can't really be interested in her, a "little hick", while Emile worries that, surrounded by "younger men than I, officers and doctors," she won't choose to be with him.
Love at First Sight: Nellie and Emile (see "Some Enchanted Evening").
Love Redeems:

Nellie eventually allows her love for Emile to overpower any negative feelings she had regarding his bi-racial previous marriage.

Maligned Mixed Marriage: Nellie (who is from Little Rock, Arkansas) is dismayed to learn that her love interest Emile has fathered a number of children due to his relationships with local Polynesian women, though she does eventually overcome it, accepting both him and them.
---
The film adaptation provides examples of:
---