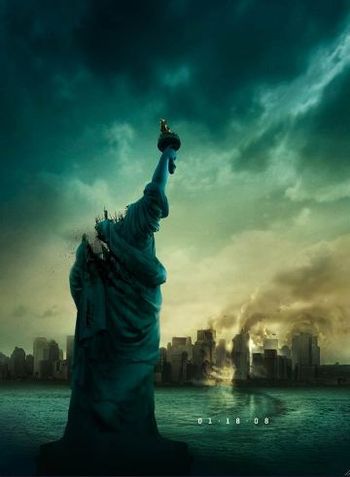 "My name is Robert Hawkins... Approximately seven hours ago, some...thing attacked the city. I don't know what it is. If you found this tape—I mean, if you're watching this right now—then you probably know more about it than I do."
A monster movie released in 2008 co-produced by J. J. Abrams (Lost, Fringe, Alias, Star Trek, Super 8, etc.), written by Drew Goddard (The Cabin in the Woods, Bad Times at the El Royale, Daredevil, The Martian), and directed by Matt Reeves. Cloverfield follows a group of New Yorkers as they attempt to rescue the girlfriend of protagonist Rob Hawkins (Michael Stahl-David, The Black Donnellys) during an attack by a massive building-sized creature. The film is seen through the perspective of Hudson "Hud" Platt, Rob's friend, who is carrying around a camcorder throughout the film, documenting the events from his perspective.
The movie was shot fairly cheaply for a budget of roughly $25 million
, is seen fully through the aforementioned point-of-view perspective, and features homages to older movies (e.g., the Statue of Liberty's head rolling down a Manhattan street was inspired by a poster for John Carpenter's Escape from New York).
The film has a Spiritual Successor in the form of 10 Cloverfield Lane—in spite of using the Cloverfield title, the movie itself is not a direct sequel, but shares many of this film's themes. The third film in the series, The Cloverfield Paradox, provides an explanation as to how they're all connected (even if it's only a minor part of the film itself).
On January 29th, 2021, news of a direct sequel written by Joe Barton
materialized. As of this writing, there is no cast or director attached. It is not expected to follow the found footage format of this film.
Note: There were rumors for a time that Super 8, directed by Abrams and produced by Steven Spielberg, was a prequel. It is actually an unrelated film, though this hasn't stopped Wild Mass Guessing from fans who have noted similarities between the monsters in both movies. Similarly, at one point, the director of A Quiet Place (John Krasinski) considered having his movie tie in with the Cloverfield multiverse, but opted against such a plan. Overlord was also rumored to be a part of this franchise, but this was Jossed by JJ Abrams, who stated that a "true, dedicated Cloverfield sequel" was in the works at Bad Robot.
---
This film provides examples of:
---