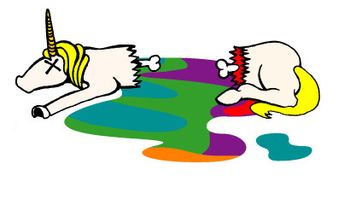 A plot, character, or story element which is parodied or mocked as overused, even though it wasn't in broad use to begin with. The result is a strange metacontextual trick where viewers congratulate themselves on the death of something that never lived (hence the title).
The Butler Did It and Ultra Super Death Gore Fest Chainsawer 3000 are two of the most well-known examples.
Related concepts:
A note for adding examples: Do not add examples to this index simply because you have personally never heard of them. Younger tropers should be especially careful of adding tropes that date back before their births: tropes such as the white wedding dress signifying virginity or the purported stupidity of Polish-Americans were real tropes at one point. Beware of your own small reference pool. Do not add examples just because they were never Truth in Television; they might still have been used seriously as tropes.
Not (usually) related to actual dead unicorns.
Compare Cowboy BeBop at His Computer, "Common Knowledge".
Contrast Undead Horse Trope, where the trope continues to be frequently played straight in spite of an abundance of parodies and subversions that would normally discredit it.
---
Examples:
open/close all folders
Tropes
---
Stories and Genres:
Anime and Manga
Comic Books
Superman has a lot of so-called clichés that parodies and homages love to send up, but which rarely (if ever) happened in actual Superman media:

The trope of Clark Kent changing into Superman in a phone booth was only ever used straight twice, in the Superman Theatrical Cartoons of the 1940s. Superman did it once in the comic books of the same period, only to note how difficult it is to change costume in a phone booth, meaning this was deconstructed when it was new. All future uses of the trope are parodies or Lampshade Hanging. In fact, it would be kind of stupid for Superman to change costume in a glass phone booth where anybody could see him, and indeed phone booths in the 1940s were made of solid wood — yet every parody or homage will use a modern glass phone booth. Brian Cronin sets the record straight in his "Comic Book Legends Revealed" blog here.
The parodists love to make Lois Lane out to be the dumb girlfriend who can't tell that Clark Kent and Superman are the same person and is easily fooled by a pair of glasses. (This even made it into actual Superman media: on Lois & Clark, time-traveler Tempus told Lois the question everyone in the future asked about her was "How dumb is she?") In the comics, Superman used Clark Kenting to extreme effect to maintain his disguise, and Lois is usually the first to figure out that Clark Kent is Superman (or at least is more certain of it than anyone else), forcing Superman to go to greater lengths to throw her off the scent. After the 1990s, most continuities have her completely in the know.

The idea of Batman being a grim, brooding, Crazy-Prepared semi-madman is more complicated than you would think. Batman became popular during The Silver Age of Comic Books, when he was more or less a straight-laced Invincible Hero, and later from the 1966 TV series and the 1970s Superfriends, which were unbelievably Campy and where he was the furthest thing from gritty and brooding. He was a grim brooding anti-hero in the early 1940s, but this was also before his Thou Shalt Not Kill phase and basically can be chalked up to Early Installment Weirdness. The idea that the modern gritty Batman is a "return to classic Batman" is thus a misnomer, as this version of the character only really came out in the Bronze Age and works like Batman: The Dark Knight Returns and Tim Burton's 1989 film.
Superheroes from the 1950s are usually thought of as obnoxiously patriotic and reactionary, with parodies such as Radioactive Man, Atomic Brain, and Marshal Law mocking Superman types as "making the world safe for capitalism". This has rarely ever been true, however - early comics had a strong leftist bend, mostly by praising the Roosevelt administration, and once they abandoned it, they abandoned politics in general, preferring to keep their villains in the realm of aliens and mad scientists. A lot of Public Service Announcements featuring Superman also leaned liberal.

Interestingly enough, it was actually Marvel's early Silver Age comics that had a more pronounced conservative bent (though at the time, they were being praised for portraying flaws on both sides of the spectrum). The '50s "Commie-Smasher" Captain America is probably the most infamous of the bunch - enough that the celebrated Steve Englehart run retconned him into an impostor - but a lot of early Fantastic Four, Iron Man, and even Thor stories had the heroes gallivanting around third-world countries fighting Dirty Communists.
This may also have some roots in the World War II-era propaganda comics of the '40s, which ranged from the merely violently patriotic (Cpt. America punching Hitler in the face) to the overtly racist and jingoistic ("Superman says: YOU can slap a Jap with WAR BONDS and STAMPS!")
A pretty common element of said parodies is also the idea of said heroes being The Fundamentalist, or overtly religious in some other sense, such as the Jesus Society of America or Oh Father. For the most part, though, even when comics were at their most conservative, superheroes tend to only acknowledge Christianity in extremely minor ways: they'd celebrate Christmas or say "oh, lord," and that's about it. If a character's faith is a significant part of their identity, it's much more common for them to be Jewish (Ben Grimm, Kitty Pryde), atheistic (Mister Terrific, Quasar), pagan (The Mighty Thor, Wonder Woman), or even follow a fictional religion (Superman). The rare characters who are overtly Christian almost never fit the Bible-thumping God-is-good mold; characters who are simply religious (Daredevil, Nightcrawler) tend to be moderate and tolerant, while characters actively empowered by Christian cosmology (The Spectre) tend to take a critical view of it.

Golden age parodies and homages often have superheroes wearing double breasted uniform coats, usually with a logo on their chest—that was unheard of back then. Heroes wore circus strongmen outfits (such as Superman or Batman) or, more rarely, something closer to a Coat, Hat, Mask look. Captain Marvel has a somewhat similar look, but it's not a coat so much as a standard spandex outfit with some buttons on the front.
Films — Live-Action
Silent Movies:

The Dastardly Whiplash was barely ever used, much less in its iconic form, in silent film. It was mostly used in vaudeville and stage melodramas of the day, which was where the overuse really came about and led to all the parodies of the concept, even though the trope was already discredited by the time the 1930s hit. The only significant use of the trope in silent movies was in The Perils of Pauline, but even that example is quite different from the standard whiplash stereotype.
The image of a silent movie villain who leaves a woman Chained to a Railway isn't real. The trope has origins in Victorian theatre, but there it was dashing Two-Fisted Tales heroes who'd get tied to the tracks, and it would be women who rescued them.
Silent films are popularly portrayed as having Sesquipedalian Loquaciousness in their word cards, mostly to evoke an archaic feel. While occasionally words might pop up that aren't commonly used anymore, most silent films were very visually-driven, kept the dialog very simple, and only used word cards to move the plot along.

Frankenstein:
During the heyday of the "quirky indie" style of movie, parodies and jokes about it often included barbs about them always featuring a guy hooking up with a gorgeous girl far out of his league. But while this is a common sitcom trope, it doesn't describe these movies too well. Usually in such films the female lead is a more down to Earth, cute Moe type, with the male often the equivalent; he may not meet the conventional standards of "handsome", but is not unattractive (think Jim Carrey, Michael Cera, Paul Dano, or Joseph Gordon-Levitt). It tends to be more about the social (not socioeconomic) status of the characters — they aren't cool enough. In silent and early sound films it is socioeconomic; a working class guy tries to succeed to become worthy of a higher-class woman. (She already loves him — the one he has to impress is her father.)
Pop culture zombie tropes are often thought to be derived from African or Afro-Caribbean legends, but they're hardly alike. In those traditions, zombies are corpses resurrected by magicians to be slaves. These zombies will not attack you (unless, presumably, their masters order them to) and can't "spread" their condition to you. The threat of becoming a zombie is scary, but the idea that the zombies themselves hurt people has no basis in folklore. Likely it's a misappropriation of Ghouls in legend, undead who would, sure enough, eat people. In fact, at no point in Night of the Living Dead (1968) is the word "zombie" spoken, but "ghoul" is (the ending credits does list "featured zombies" though). The fans ran with zombies, though, and the term stuck as the film spawned an entire genre.
Many parodies and pastiches of Jason Voorhees, villain of the Friday the 13th films, show him wielding a chainsaw, even though his favorite weapon in the movies is just a machete. Indeed, he has never used a chainsaw for any purpose — the closest he came was using a circular saw once (and interestingly, a chainsaw is used against him in the second movie). Most likely, his attributes are being mixed up, intentionally or otherwise, with those of Leatherface from The Texas Chainsaw Massacre.
Many parodies of the Terminator have the character as a Dumb Muscle. In the original film, the Terminator was actually very intelligent, and in fact this was a big part of what made it so threatening. It knew to retreat from a bad situation, how to repair itself when damaged, how to find its target via the phone book, and search a house for identifying information about the target.
All parodies of and homages to Film Noir have moody jazz scores, but the real classic Noirs from the 1940s had the typical orchestral scores of that period of Hollywood music. It was the late '50s-early '60s TV shows inspired by Film Noir (like Peter Gunn) that used jazz. This article explains it in detail.
Most parodies of Godzilla and other classic kaiju films tend to mock concepts that never actually existed in the genre. Perhaps the most stubborn myth is that the miniature cities destroyed by the monsters were constructed quickly using cardboard and not really meant to be convincing. In reality, the miniatures in even the worst Godzilla films are easily the most expensive and time-consuming element of the production (just one of these sets could take up to 35,000 man hours to build), as they were lavishly detailed and built using the same materials as real buildings, mostly wood and plaster. Also, the commonly-mocked scene of a crowd of Japanese pedestrians running down the street while pointing back at the monster and yelling "RUN! IT'S [NAME OF MONSTER]!" rarely, if ever happens in a real kaiju movie despite being nearly universal in parodies of the genre.
James Bond:

The notion that in the films the villain always tells Bond what his evil plan is is not entirely accurate, as often Bond already knows or has figured out what the plan is already, and the villain is just filling in some details (usually for the benefit of the audience). Indeed, on several occasions it is Bond who actually explains the evil plan to the villain, often to stroke their ego, distract them to buy time, or get them to drop their guard.
The notion that "the main Bond girl works for the villains until she falls in love with James Bond" has only happened once, with Pussy Galore from Goldfinger. While Bond has slept with evil henchwomen before (Thunderball, Goldeneye, Die Another Day), the aforementioned Goldfinger is the only case where he slept with a henchwoman who changed sides as a result. (Bond did sleep with May Day, who later changed sides, but these events were not related.) The rest of the time, they were either completely innocent but just happened to get involved with the villain's plans (Honey Ryder, Christmas Jonesnote ), on Bond's side to begin with (Kissy Suzuki, Tracy Di Vincenzo), working for the villain but having no idea what their plans were (Tatiana Romanova, Octopussy) or effectively a slave of the villains (Domino, Solitaire).

"In a World..." is the most clichéd way to open a movie trailer, but the number of actual, non-spoof trailers that use the phrase at all is smaller than one would think, and ones that actually open with it are rarer still. It originates with the works of Don LaFontaine.
The notion that characters in The Western wear hats that are Colour-Coded for Your Convenience (heroes wearing white hats and villains wearing black hats) was never really a thing, except for children's shows. All the way back to The Great Train Robbery hat colors were fairly evenly distributed, and once films went to color most characters had brown hats in any case. The trope was invented in the 1990s, mostly to mock the Black-and-White Morality of many Westerns.
Some pornographic films advertise that they do not use the missionary position, as everyone is tired of that because it is so common. However, the missionary position is actually avoided in porn for the fairly obvious reason that it's difficult to see the woman's "assets" if the actors are smooshed against each other (for the same reason, reverse cowgirl, rear-entry, and anal are far more popular in porn than in real life). Also, during the missionary position it's easier to see the man than the woman, which is exactly what porn aimed at straight men (as the majority is) wants to avoid. Using it would actually be a subversion.
More a meme than a trope, but the idea of comedy movies starting In Medias Res with some wacky scenario (often in a crowded setting) that culminates in a freeze frame, Record Needle Scratch, and the voice of the main character narrating something like "Yep, that's me. I bet you're wondering how I got into this situation..." and then segueing to the start of the story while music (Usually "Baba O' Riley" by The Who) plays. While a lot of movies have individual parts of this, few people can name a movie where all of the above happens. Commonly cited films include Megamind, which opens with a similar line and a segue, but over a slow motion shot rather than a wacky scenario and a freeze frame, The Emperor's New Groove, which has Kuzco narrating something similar in the opening without the record scratch, Premium Rush, which does something like this (complete with "Baba O'Reilly") but without dialogue, and Ratatouille, which opens with Remy being thrown out of a house, with a freeze frame followed by a voiceover that goes "This is me," but the scene in question takes place before the rest of the story and doesn't segue into anything other than the very next moment. The closest fit is probably the third Robot Chicken Star Wars special, but that's a) a parody and b) still missing a few elements. It is played straight in most episodes of What's with Andy? and a few episodes of The Loud House, but those are both cartoon TV shows rather than live-action films.
Action girls, especially in film, have a few clichés that aren't:

The joke where "a 90-pound woman slings around big men three times her size". It almost never happens except as humor, or if the situation is justified (e.g. the woman is a cyborg, or a superhero, or genetically empowered). Otherwise the action girls would use more simpler hand-to-hand or guns or the like, but never throw them around.
Conversely, the "badass woman instantly depowered when grabbed by the wrist" doesn't happen often, either. Most that are genuinely taken out that way are either already beaten, or threatened (e.g. a knife to the throat as well), or are grabbed by someone far stronger then they, or were never action girls in the first place. Also note that the page is loaded with subversions, justifications, and parodies.
Literature
Live-Action TV
MythBusters wound up doing this a lot, busting myths that weren't really myths to begin with. This was especially an issue in later seasons, when they had fired their folklorist and had to do episodes on more obscure myths, leading them more to finding out what is possible than setting the record straight. Specifically:

While tackling the myth that steel-toed boots could actually sever toes instead of protecting them (busted, by the way), Adam commented about "samurai movies" where the tip of someone's boot would be cut off, but the toes are intact right behind where the tip was severed. This occasionally appears in comedy, but its appearance in a "samurai movie" is highly dubious at best (not least because the typical samurai costume includes sandals).
They tested the claim that Japanese armor was better because it was made of lacquered wood — except it wasn't. They used leather, and later lacquered iron (metal was expensive in Japan, and iron rusted easily in the humid climate). Or, to put it another way, there was such a thing as wood-crafted ceremonial armor, but mistaking it for the real thing is akin to thinking that European knights rode into battle in ruffled collars and ring-covered hands.

Doctor Who, being a Long Runner and pop culture phenomenon in Britain, generated a lot of misconceptions of how things typically went:

Not many of the Doctor's companions actually twisted an ankle, and very few were helpless screaming women. In fact, Susan is the only one that comes to mind who did either, and even she shared the TARDIS with another female companion, Barbara, a strong-willed teacher who Minored In Ass Kicking. The Second Doctor used Victoria's screaming to defeat a foam monster, and even then it was subtly pitched as a send-up in Victoria's last story to something she had seldom done. That said, the producers seemed to think this was the case, and new companions were often promoted in the Radio Times with promises that they wouldn't be screaming girls like in the old days. Mel in particular was introduced as an "homage" to 1960s companions, but she more resembled a B-Movie scream queen than anything that had appeared in the series before.
The Doctor travelling with only a female companion is also Newer Than They Think. In the 1960s, he tended to fill his TARDIS with rotating man/woman pairs, with an occasional "child" character to round out the team; the sole female companion only became the norm in the mid-late 1980s, although for a period in the late 1970s there was only one human(oid) companion and a robot dog.
The line about Daleks being unable to climb stairs was trotted out right up until their return in 2005, even though it was implicitly obvious they could in the 1960s and actually shown on screen in the 1980s. In fact, in the Daleks' second appearance (in the Dalek Book) they were shown flying with transpolar discs.
People often misremember Doctors' personalities. William Hartnell is remembered overwhelmingly as being grumpy and a Token Evil Teammate when he spent more of his tenure being silly, grandfatherly, and giggling about one of his schemes. Patrick Troughton is remembered as the giddy, recorder-playing fool he was in "The Three Doctors" rather than the often detached and authoritative character he was. Tom Baker is much more associated with his CloudcuckooLander Invincible Hero characteristics despite spending most of his tenure as a gothic, detached Byronic Hero who could be as disturbing as he was silly. And Peter Davison is often decried as being a boring Nice Guy despite being a Deadpan Snarker Determinator who was much more likely to just shoot the monster than most other Doctors. Much of this is down to gimmicks being remembered better than a whole portrayal, or disproportionate weight given to certain eras and scenes.
Robert Holmes is stereotyped as always using Obstructive Bureaucrats as lead villains. He only had them as lead villains in "Carnival of Monsters" and "The Sunmakers", both of which use settings where this would be unavoidable (customs officials and a taxation dystopia). Usually, his lead villains were more dynamic types — even in "The Deadly Assassin", which was much criticised for turning Gallifrey into a bureaucratic parliament, the bureaucratic Time Lords are Lawful Neutral at worst, and the villainous Time Lords are a slick and ambitious man of action and a hissing zombie.
The idea that the Doctor always goes to Victorian Britain, or someplace with Steampunk "Space Victorians". He really didn't go there all that often in the Classic series, and they didn't make a big deal about it until Season 14 ("The Talons of Weng-Chiang", which used every Victorian London trope in the book). By Season 23's "Timelash" and Season 26's "Ghost Light", the Doctor had become self-aware that it was a bit of a cliché — except it wasn't, really. The Revival series embraced this idea with gusto, in particular having the Eleventh Doctor retire to Victorian London at one point on the grounds that it's a "default" setting. Perhaps the Doctor's Victorian fashion sense gave the idea that he hangs out there more often than he does (or Britain is full of Victorian buildings and the BBC has plenty of the clothes already, so it's cheaper than Aztec period Mexico or early medieval England).
The Classic show is often stereotyped as unemotional, whether to criticise it for being nerdy and sexist, or to praise it for its lack of soap opera Glurge. In fact, the Classic series often focused on the relationship between the Doctor and his companions, and it was often modelled after British-style Soap Operas in format and Emotional Torque (all the better when you don't have a big special effects budget). The Fourth Doctor, who had a particularly long tenure and was emblematic of the era, was less emotional and more distant than the others, and that's probably what enforced the stereotype (that and his longest-tenured companion being a Robot Dog), but this was still a character trait of that specific Doctor and mined for its own emotional storylines when his companions try to connect with him.
The Classic show wasn't entirely sexless until it became an Enforced Trope in the '80s, by which time the Doctor's asexuality was already a meme. The Doctor did not kiss his companions, and the show was not focused on romance at all, but UST was omnipresent and innuendo was common. Each of the first four Doctors got at least one story where they would be allowed to flirt with a pretty girl or be distracted by one; Implied Love Interest relationships and Ship Tease moments between the Doctor and his companion were common throughout the '70s;note and the First Doctor was introduced with a granddaughter (which implies certain actions that produce children) and even got engaged to a Girl of the Week in one story. The idea was not supposed to be that the Doctor had no sexual feelings — just that the show wasn't about that sort of thing, and so it wouldn't make sense to include a Token Romance. Nevertheless, fandom memory holds that the Doctor was Not Distracted by the Sexy (and possibly without the relevant parts) until the Revival series decided to make him into a Chick Magnet, and jokes to this extent have been made on the show. A disproportionate amount of this came from fans latching onto the Fourth Doctor's notorious "You're a beautiful woman... probably" line in "City of Death", which in context seems more likely to be deliberate mockery of the Countess's villainous attempts to distract him with sexiness than actual asexual innocence.
On the other hand, the Revival series is often seen as "reversing" his asexuality into becoming The Casanova. While there is kissing, more often than not he's on the receiving end (and totally bewildered by it); in fact, his disinterest in all the people coming on to him has made him look even more like a weird alien asexual. Part of it is that since the love interests are much more forward to him, there's the question of an actual Relationship Upgrade, which he has to reject (partly because It's Not You, It's My Enemies, and partly because he's Really 700 Years Old and it just wouldn't work out. He did get married to River Song, but she described it as a one-way relationship ("you don't expect a sunset to admire you back").

Anything related to Game Shows:

Game show hosts being always-smiling Large Hams who give a "slimy used-car salesman" vibe, crack awful jokes, and wear loud flashy suits. Most of the genre's greats were a bit goofy and loud at times, but even a more comical host like Gene Rayburn, or slicker types like Bob Eubanks, Jim Perry, Wink Martindale, or Monty Hall, knew how to keep a professional demeanor when called for. The existence of Guy Smiley likely helped codify this image, which is merely a comedic Flanderization of traits from the aforementioned hosts with a little bit extra thrown in for comedy. Many prolific game show hosts are extremely far away from this stereotype entirely, with prolific hosts such as Bob Barker, Jack Barry, Bill Cullen, and Alex Trebek featuring very few to none of the traits associated with such a role.
The deep, melodramatic Large Ham Announcer voice that most "parody" game show announcers have is actually based more on comedy announcers like Gary Owens (the announcer for Rowan and Martin's Laugh-In) as opposed to any announcer whose primary work was in game shows. Don Pardo had a deep and dramatic voice, but it was authoritative and exciting without being over-the-top, in addition to sporting an obvious New England accent. (That, and 99% of his game show career was before 1975; his association with game show parodies is likely due to his association with such parodies on Saturday Night Live, where he was the announcer for many years.) In fact, most game show announcers sound absolutely nothing like that. Most had much higher pitched voices (e.g. Johnny Olson, Rod Roddy, or Johnny Gilbert), while quite a few were much mellower (such as Gene Wood, Jack Clark, Charlie O'Donnell, or John Harlan). Probably the closest that any actual game show announcer has come to this style is Burton Richardson, although even he was still somewhat more subdued.
Having the audience shout the show's name in the intro. Wheel of Fortune and Scrabble are the only shows that have ever played this straight (although the 1985 show Break the Bank did it when throwing to commercial), and even then, Wheel's chant has been the same pre-recorded one on all but a handful of occasions.

Star Trek:

Many misconceptions about Deanna Troi:

People berate her for being a Damsel in Distress, but in all Star Trek series, the bridge crew basically take it in turns to have something bad happen to them.
The idea that she's incompetent and useless. While she isn't seen doing her job very often, she's shown to be incredibly competent whenever she is seen doing her job. She's also gotten to save the day in "Loud as a Whisper" and "Night Terrors". As for crashing the Enterprise in the movie, she was trying to land it, and Star Trek: Voyager establishes that landing ships is Serious Business, even for a pilot.

The X-Files: The idea that Mulder is more accident-prone and/or incompetent than Scully. They're pretty much equal, though Scully is a doctor and Mulder is not. This may have stemmed from the fact that he's a bit of a goof, but he's good at what he does.
Music
Mythology & Religion
Many skeptics attempt to discredit The Bible by asserting that the Egyptian Pyramids were built by paid laborers, not by slaves. While this is very true, and it's also true that there currently isn't much evidence that there were ever Hebrews living in Egypt, the Bible never specifically claims that the Hebrew slaves were used to build pyramids. This misconception likely arises from the conflation of the two things most people know about ancient Egypt.
Professional Wrestling
The school of thought that the woman wrestler of the past was a scary Brawn Hilda and that the women in the sport became Progressively Prettier is actually quite false. In fact the documentary Lipstick & Dynamite shows what women wrestlers were really like; they had to be dolled up to the nines when entering and leaving the arenas, and wrestlers like Mae Young and Penny Banner modelled their looks off various starlets of the time. There was always a mix of glamorous women wrestlers in with the Brawn Hilda performers. In WWE they started bringing in models to specifically be Ms. Fanservice, but the earliest that happened was in the 1990s.
Tabletop Games
Similar to Ultra Super Death Gore Fest Chainsawer 3000, the whole idea of Tabletop RPGs promoting Satanism (with Dungeons & Dragons being most frequently accused of this, if only because it was the most well known) was all part of the whole "Satanic panic" of The '80s. While demons and the like do exist in the game, they are explicitly labelled as being evil, and mainly serve as enemies for the players to kill, not worship. Gygax was a devout Christiannote , and it's quite visible in early editions: one of the first gods created in the setting was Saint Cuthbert, who is not only Lawful Good, but is explicitly based on a real-life Scottish saint (and they're even implied to be the same person). The closest thing to a straight example of this is Empire of Satanis, which wasn't invented until 2003 and which the creator eventually revealed was meant more as a joke/troll game, mixed in a lot of Objectivism and the Cthulhu Mythos and was universally panned.

Even in spite of all this, some fringe fundies still cling to this mindset, acting like a game being about the occult is the same as the game itself being occultnote , which for the record is like thinking that watching a movie about gun violence will give you lead poisoning.
Video Games
A lot of Eastern RPG cliches never actually existed. But it certainly feels like they did.

The stereotype of the typical JRPG protagonist as a Wangsty, spikey-haired teenager covered in belts and zippers, swinging a sword with its own zip code. The character the stereotype is supposed to be based on, Cloud Strife, doesn't even hit all the points, since Cloud is a 21-year-old flamboyantly cocky Jerkass with a whole different kind of mental problem to angst and two zippers (on his shoes). This perception is a combination of Cloud's iconic character design with elements of the younger and sulkier Squall Leonhart from Final Fantasy VIII and a few bits and pieces of the considerably angstier Vincent Valentine; it was popular enough that Advent Children and Kingdom Hearts both used interpretations of Cloud, based on this garbled version so that the audience would still feel familiar with the character. Outside of the fanonised Cloud, characters that fit the complete stereotype can only be found as parodies (such as Altos Tratus), and even those who come close are few and far in between; the genre as a whole tends to favour optimistic if not outright Hot-Blooded characters. There are JRPG characters who do fit the "angsty teen with a tragic backstory" stereotype, but they're much more likely to be side characters, The Lancer, or even antagonists. Much of the reason Cloud and Squall were so innovative was because their troubled, more realistic personalities were radically different to the Idiot Hero types that dominate the genre.
While "waking up the main character in order to start the story" is common enough to be a trope of its own, "having the main character be woken up by his mother" thing is something that is inspired by Dragon Quest III. There are situations where it may play out like this, but it's actually rare for it to happen. This doesn't stop The Grand List of Console Role Playing Game Clichés to make this the very first on the list (with that specific example being based on Chrono Trigger.)
Some still hold the stereotype that all Eastern RPGs have very generic anime art-styles and feature excessive amount of fanservice, often with a dose of World of Buxom and the main character (often Silent) getting a Battle Harem of some kind; all of which is used as criticism that the genre is bad. While this does apply to some JRPGs, it's hardly as prominent as some think it is, especially in the major franchises like Final Fantasy or Dragon Quest, which feature little fanservice that isn't being Played for Laughs. It's likely this idea originates from fanservice-filled anime and manga which utilize fantasy and JRPG tropes as backdrops, rather than the games themselves. The only major RPG that does this is Dragon Quest III (where the hero can potentially recruit three stripperiffic women, and the Sacred Bikini is the game's best armor), but there is no interaction between party members. It should also be noted that most RPG parties are either predominantly men or gender-equal with maybe one party member that fits the stereotype.

Detractors of modern military shooters often paint them as jingoistic, racist, pro-war power fantasies where you shoot lots of Middle Easterners without any repercussions and make blatant use of America Saves the Day. Common targets of mockery include Call of Duty (specifically the Modern Warfare sub-series) and Battlefield (specifically the Bad Company spin-offs and the 3rd and 4th main installments) which are the two biggest names in military shooters. However, it's worth noting that none of their games set in modern times actually fit the stereotypical definition of what a modern military shooter "should" be. The Modern Warfare games were more of an Unbuilt Trope where the actions of the US military make problems worse, it's British soldiers who save the day, and you fight Russians most of the time (none of the listed games have you fighting Middle Eastern insurgents for any longer than, at most, a quarter of the game - in fact, of all of them, only CoD4 even has them past a single level). Battlefield: Bad Company was more of a parody than a straight example, and Battlefield 3 turns the logic of "America saves the day" on its head - due to working under that logic, the CIA ignores everything the protagonist tells them about a plot to detonate a nuke in New York City, because the Big Bad turns out to be a CIA mole, except for the parts which they can misconstrue as "proof" that the Russians are the real bad guys.
Pokémon:

It's been ingrained in the public consciousness that Pokémon trainers traditionally start their journey at 10 years old. Though the anime notes that 10 years old is the minimum age of an officially registered Trainer, the only actual Pokémon protagonist who is canonically 10 years old is Ash Ketchum from the anime. Most others have a Vague Age, and many are implied to be teenagers. The closest are the protagonists of Pokémon Red and Blue and Pokémon Sun and Moon, both of whom are 11 years old. This hasn't stopped most parodies and Fan Fics from making their protagonists 10 years old.
Every trainer seems to get their starter Pokémon handed to them by a Pokémon professor. While every game's player character gets their first Pokémon this way (as does Ash in the anime), this is almost certainly a relatively unique situation. After all, there's usually only one professor in any given region, and he or she only has three Pokémon at most. You also just happen to be living in the same town as said professor. This is further supported by the fact that no one else you encounter have any of the Pokémon the professors give out, and the vast majority of trainers simply have Pokémon that can be caught in the local area of where you encounter them. Ruby, Sapphire and Emerald show a local Gym leader (your dad, in this case), loaning out his Pokémon to help a local boy to catch his first. Presumably the help of an established trainer is how nearly all regular trainers get their start.

Mario is often criticized for being a "stereotypical Italian plumber," but can you honestly name one other example of a stereotypical Italian plumber besides his brother Luigi?
The video game adaptations of the live-action Street Fighter movie were never actually titled "Street Fighter: The Movie: The Game", they were simply titled Street Fighter: The Movie. In fact, the movie itself is simply titled Street Fighter, with no subtitle to indicate it was an adaptation. However, it's not uncommon to find web coverage of the games refer to either of them "Street Fighter: The Movie: The Game", likely for disambiguation purposes.
From Yume Nikki, the Vomit-Chan meme never happened. At no point in the game does Madotsuki ever throw up; the piece of fanart that inspired this meme was entirely the invention of a guro artist.
Fire Emblem: The Fire Emblem Heroes fandom often depicts Reinhardt with an evil or creepy grin (such as here◊), often to depict how powerful he is in-game. Truth is, he is a very serious Anti-Villain (all his official art does not have him smile) who despises the motivations behind him and is quite conflicted toward his sister Olwen's path.
Tetris is often viewed as an overtly political work created by the Soviet Union to spread their culture and ideology to the first world (for example, Ben Kuchera of Polygon discussed this in a series of tweets like this one). Truth is, the Russian and Soviet music and imagery were not in the original but added by first-world developers for marketing and style after they got the license — the original game was just a Tech Demo Game to test out the Elektronika-60 hardware. It had no music or advanced graphics, let alone any Soviet politics or propaganda — see it originally played here note . In fact, some of the added imagery was misaimed — once ELORG was made aware of these (such as Mathias Rust landing in the Red Square, after breaching nearly all of Soviet air defense) they were mad as some of those images like the stunt were major embarrassments at the time.
Western Animation
Miscellaneous
Jelly bracelets, worn as a fashion item by teenage and preteen girls back in The '80s, and at the Turn of the Millennium. They were bands of jelly-rubber or silicone, often stacked like bangles or linked together to create a new look. Somewhere along the line, they attracted a rumor that they were a signal of what sex act(s) the wearer was willing to do, if someone were to break the bracelet, a different color for different types of sex acts from kissing to lap dances all the way up to anal sex. (This rumor was especially troubling at the Turn of the Millennium, when they were adopted by preteens and even younger children.) Although even to this day, they are referred to as "sex bracelets," and "everyone knows" that they signal availability for sex acts (and because of these rumors, they have been banned at some schools), no credible reports exist of people (of any age or sex) actually using them in this way. Indeed, jelly bracelets are nearly impossible to break with one's bare hands, a key component of this particular urban legend (the 2019 Short Film Shagbands got around this by having a boy use a switchblade to break the bracelet).
Rainbow parties, where girls wearing different colors of lipstick supposedly perform oral sex on boys to leave a "rainbow" on their penises, became a moral panic in the early 2000s. Despite there being no credible reports of actual rainbow parties ever happening, they turn up as plot devices in crime procedurals with some regularity.
Pregnancy pacts in the late 2000s and early 2010s, where groups of high school girls make a pact to intentionally get pregnant, perhaps "inspired" by films like Juno and Knocked Up. This was told about in movies and other works like the 2010 Lifetime movie The Pregnancy Pact. While there really was an unusually high amount of teenage pregnancies in Gloucester, Massachusetts (eighteen total in a single high school in 2010) which inspired the Lifetime movie, there was no pact between the pregnant girls and they had little to nothing to do with one another, and little of this pact existed elsewherenote .
There have been rumors of female Olympic athletes intentionally getting pregnant, and then terminating the pregnancy about 2-3 months in, just to get a boost from the hormone surge caused by the pregnancy. (What that hormone boost was supposed to do is to increase the volume of the athlete's blood, thus theoretically improving her athletic performance, similar to other methods of "blood doping," but more difficult to detect or prove.) To date, there have been no credible instances of athletes doing this. It also might not be very practical, as pregnancy hormones cause side-effects like Morning Sickness and fatiguenote , neither of which are really conducive to athletic performance or endurance, even as they taper off when the pregnancy is terminated.
Jokes about hippies and other counterculture groups from The '60s burning everything and we mean EVERYTHING. In many of these cases, none of them were:

Straw Feminists burning bras at demonstrations. There have been no known, credible instances of this happening. The closest thing to this idea is the demonstrators in question tossing bras, corsets, high-heeled shoes, cosmetics, and other items they regarded as symbols of female oppression into a garbage can, and even that happened only a couple of times.
Young men burning draft cards as a protest against The Vietnam War. How widespread this practice was remains a matter of dispute: some highly publicized cases occurred, particularly in early antiwar protests in 1966 and 1967, but it's thought that the symbolic value of the act (and the level of media coverage these cases received) outweighed the actual frequency of the burnings. Perhaps the most famous and widely publicized antidraft protest involved the Berrigan brothers, who poured blood on stolen draft records (not cards) in an October 1967 protest.
Also, the famous myth of soldiers being spat upon by protesters after returning from the war. Certainly the Vietnam War was deeply divisive and not all American servicemen received a warm homecoming, but accounts of this actually happening are anecdotal at best; historians have found few, if any verifiable contemporary accounts of protesters spitting on soldiers. Still, the trope has been heavily promoted by movies about the war, particularly First Blood, and remains a widely believed piece of folklore.

The infamous "Tide Pod Challenge". In early 2018, after a few reports emerged about teenagers (often erroneously referred to as "millennials", despite the fact that most sources define that generation as old enough to be 2018 teenagers' parents) supposedly swallowing laundry detergent pods on a dare, jokes about the phenomenon suddenly became ubiquitous, and everyone from YouTubers to late-night talk show hosts got a good laugh mercilessly mocking the kids who were dumb enough to participate. It wasn't that long before jokes about the Tide Pod Challenge became far more common than documented cases of kids actually doing it. In fact, there's very little evidence that the Challenge was ever a widespread fad. note When stories about the Challenge were at their height, The Washington Post could confirm less than 20 instances of teens intentionally ingesting the pods in early 2018, with around 55 intentionally ingesting them the previous year. Indeed, Tide Pods (and other detergent pods) pose a much greater risk to small children (who either are at the stage where they put everything in their mouths, or mistake the pods for candy with their wrappers and bright colors), or elderly people (in particular, dementia patients) who mistake them for candy than they pose to teens and young adults. In fact, that's a theory as to why it became a meme: it's the most effective way to give it widespread attention so people would be aware that it would pose a threat to those groups. Another possible origin for the meme is old Tumblr shitposts by people who know full well they're toxic musing about how they still look tasty, calling them "forbidden snacks".
Every Halloween, some local law enforcement agency, news program, or newspaper will run a story about drug dealers handing out drugs in the guise of "candy" to children out trick-or-treating, and how parents need to beware that they could end up in trick-or-treat bags. First of all, as mentioned further above, edibles are much too expensive for anyone to just give away for free. And secondly, even if that were financially viable (and it's not), the kids would have no way of knowing who the dealer was - the only possible reason to be doing this would be to get a bunch of random kids high just for its own sake.

The "drugs as candy" urban legend was mocked by Amy Alkon on her blog:

Bullshit. Nobody gives away drugs instead of 10-cent mini candy bars. Same as nobody gives away gold nuggets.

Similarly, stories of children being poisoned on Halloween, or given unwrapped treats with razor blades, needles, and the like inside by malicious adults. There have been no proven instances of random children being injured or killed in this way; most of the instances involved pranks Gone Horribly Wrong, or the use of an existing urban legend to cover up a parent (or someone else known to the child) harming or killing them.
And for yet another Halloween-related urban legend, the one about Satanic cults using ritual abuse against black cats. Every year, pet owners are encouraged to keep cats indoors,note and animal shelters sometimes restrict or completely veto adoptions of black cats during the month of October. Halloween can be a stressful time for cats, what with strangers coming to the house and disruptions in their routines, and sometimes cats bolt out the door, which can cause them to get hurt by cars and/or predators. There have not been any credible reports of any cults torturing or sacrificing cats on Halloween (though sometimes the cats fall victim to malicious people, usually teens). And the reason shelters limit black cat adoptions is a much more practical one: people sometimes "adopt" black cats as accessories to witch costumes or living "home décor," then dump the cats off (or bring them back to the shelter) after Halloween.

Reports of Satanic ritual abuse taking place at daycare centers and the like back in The '80s (known as the Satanic Panic). The idea was popularized in a "memoir" of a man who allegedly spent time in a Satanic cult... which he later admitted was pure fiction. That, combined with distrust of daycare centers (which were a relatively new thing, thanks to the rise of working mothers), led to a belief that these institutions were fronts for ritually abusing and sacrificing the children left there. Even worse, agencies such as the FBI actually believed these conspiracy theories. This, and the fact that they were interviewing children who were terrified of them (not their caretakers) and priming them to say what these officials wanted to hear, led to many daycare centers being shut down, and daycare staff being imprisoned or shunned by their communities for things they did not do.
Opponents of Barack Obama like to claim he apologizes for America all the time. Yet when asked they usually can't provide a single example. A possible source for this is Mitt Romney's book No Apology: The Case for American Greatness. This article has an extensive analysis of the claim, including direct quotes.
Contrary to popular belief, ancient people never believed Atlantis was a real place. It was actually an allegory thought of by Plato and never intended to be taken literally. The books that serve as the source of the "legend" say this explicitly.
Christopher Columbus is often mocked and portrayed as an idiot who didn't discover America, thought the Earth is shaped like a pear, and drastically miscalculated his journey, ignoring everyone who told him he was wrong. Except he never thought any of this. While it's true that educated people of the time knew the Earth was round, nobody was certain exactly how large the continents were. Columbus charted his route according to a map made by Italian cartographer Toscanelli, which showed where most educated people at the time thought Japan was. When Columbus landed in the Caribbean, he thought he'd discovered a series of previously uncharted islands off the coast of Asia, not China or India. Likewise, he never claimed that the Earth was pear-shaped, but that it was a sphere with a protuberance, at the top of which was the terrestrial paradise, aka the Garden of Eden. None of this was unique to him; map makers across the centuries and other explorers thought this paradise was real and lay to the south of Asia. During his third voyage, Columbus landed in what's now the Gulf of Paria, and he began to wonder if this land - which he realized was not Asia - was actually the terrestrial paradise explorers had been searching for.

Some people and many children's programs seem to think he was trying to prove the Earth was round. That was not the case, and as above, it was agreed upon by educated people of the time that the Earth was round. This bit of the Columbus story was tacked on centuries later as part of Historical Hero Upgrade, making him look like a proto-enlightenment Science Hero.

People saying, "check, please" in movies and TV is common enough it could be a Stock Phrase, yet it's pretty rare for people to say this exact phrase in real life (unless they are deliberately imitating a movie or being facetious), usually it's something more like "May we please have the check".
The question "How many angels can dance on the head of a pin?" has never been the subject of serious theological debate. The first known mentions are from 17th-century Protestant writers who used it as an example of medieval scholastic theologians pondering absurd and useless questions. Basically, it started as anti-Catholic propaganda. There are somewhat similar real cases, such as Thomas Aquinas's Summa Theologiae asking and answering whether several angels can be in the same physical space at the same time.
People sometimes jokingly claim that masturbation causes hair to grow on your palms. While it's an indisputable fact that people in the 19th century thought masturbation caused a lot of weird health problems, there is little evidence to suggest they ever believed it caused this specific ailment. Most likely it was made up after the fact in order to mock the stupidity of people who believe masturbation was harmful, similar to the "Medieval people thought the Earth was flat" misconception above. It may also have been used as a threat to children who didn't know any better in order to discourage this behavior; similar to telling a child their face will "stick that way" if they keep making a funny face, no full-grown adult ever believed it.
Many parents as of the late 2010s worry that their kids will fall victim to the "Momo Challenge", which is allegedly a scary character named Momo on social media or YouTube threatening the kids into doing dangerous, potentially lethal, things. However, while people have put inappropriate stuff into kids' videos before, the Momo Challenge is likely a hoax: a twelve-year-old did kill herself and say that it was because of the "Momo Game", but there the prime suspect was someone she met on social media. There have also been a sixteen-year-old and another twelve-year-old who killed themselves and two young Indian men who died of unknown causes that have been linked to the challenge, but there was no solid evidence. In addition, no one has been able to get a screenshot of Momo in action and the face that people claim is being used as "Momo" is actually a sculpture.
As personal remote control drones became cheaper, easier to fly, and gained increased range in the late 2000s/early 2010s, significant concerns were raised that they would be used for spying and peeping. Sitcoms made it seem like the skies would be inundated with drones (for example, this was explored in an episode of South Park, a B-plot in an episode of Community, and a background joke in the 20 Minutes into the Future final season of Parks and Recreation) while more serious media examined the ethics around these activities. Ultimately, genuine issues were rare while personal drones themselves have since become mainstream enough to no longer be controversial. As a number of jurisdictions ease restrictions around delivery drones early in The New '20s, this idea has found a small amount of new life with the focus shifting to the potential dangers caused by both more drones in the sky and them landing near private residences.
People being burned for supposedly being witches wasn't nearly as common in Real Life as in fiction. While it's an indisputable fact that numerous people were killed for being witches, said people being killed by burning was a lot more rare than people think. In the Salem Witch Trials (probably the best-known example), all of the "witches" were killed by hanging except for one who was crushed to death with stones (and that was technically for refusing to enter a plea). And while there are some completely straight examples (such as Marigje Arriens or John Fian), most people will have never heard of them. Part of this may be due to conflating witch hunts with the burning of heretics, as the two are usually taught about around the same time in school.

Similarly, portraying the witch hunts as a crime against women, with some works of fiction claiming only women were ever accused. In reality, not only are there plenty of cases when men were accused and executed...witchcraft was considered a men's crime in quite a few countries: Normandy, Estonia, Burgundy, Russia and Iceland.

It's become a cliché/joke in sci-fi stories for government agents trying to cover up UFO sightings to claim the object in question was really just a weather balloon, with the implication being such a statement is patently false and something only an idiot would actually fall for. In reality some weather balloons really do look rather like the stereotypical "flying saucer" (the one involved in the "Balloon Boy" incident is an example). This whole cliché comes from the Roswell incident where the Roswell personnel said what they found resembled a weather balloon. However, the suspiciousness of the statement comes not from the fact that they said it looked like a weather balloon, but that they changed their statement so soon after saying it was something else.
Chastity belts, at least in the common conception (i.e a metal belt a man forces his wife to wear while he's away) were never a real thing. The reason for this is (seemingly) obvious - how would the wearer go to the bathroom? Unless they opened at the back, which would defeat the purpose, at least in some cases. The closest real examples are belt-like devices invented in the late 19th/early 20th century in order to prevent masturbation, which most people thought was dangerous at the time. There's also some evidence around the same time of women intentionally putting on similar devices to protect themselves from being raped, although they would obviously have means to remove it once out of danger. They are also sometimes used as a bondage thing today, but again, the wearer can just ask to take them off. Well, we hope.note
There's a common "meme" that states that Mr. Rogers was not an army sniper in Vietnam (or Korea), however there's no source that actually tried to claim that he was.note
---