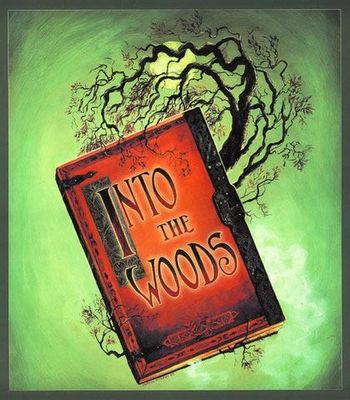 Into the Woods is a Musical by James Lapine and Stephen Sondheim that weaves together the fairy tales of Cinderella, Jack and the Beanstalk, Little Red Riding Hood, and Rapunzel.
In the first act, a baker and his wife who desperately want a child are told by the witch who cursed their family with infertility that she'll lift the spell if they do something for her first. She sends them on a quest that takes them in and out of the other stories, collecting Cinderella's slipper, Jack's cow, Little Red Riding Hood's...riding hood, and some of Rapunzel's hair. There's also a mysterious old man who appears from time to time, trying to help the quest along for reasons of his own. After a certain amount of deception, theft, and murder — you remember how these stories go — everybody gets what they were wishing for at the beginning, and there's a big song-and-dance number about how they will all live happily ever after.
Then comes the second act, where everybody has to grow up and face the consequences of their actions.
The show is one of Sondheim's most famous, alongside West Side Story, Sweeney Todd: The Demon Barber of Fleet Street and Company. In the year dominated by The Phantom of the Opera, it was able to snag three Tony Awards, for Best Score, Best Book, and Best Leading Actress (Joanna Gleason as the Baker's Wife). The original Broadway production has since been followed by a notably contentious revival in 2002, as well as numerous productions across the country at everywhere from the regional to the high school drama level.
Many people are most familiar with the excellent version filmed by PBS
under its American Playhouse banner in 1991 and subsequently released on home video; this was based on the original Broadway production and had most of the same cast. In 2012, a limited-run revival as part of New York's Shakespeare in the Park starred Donna Murphy as the witch — just months after she could be heard playing much the same role in Tangled.
Walt Disney Pictures released a film adaptation on Christmas Day, 2014, with Rob Marshall (Chicago and Pirates of the Caribbean: On Stranger Tides) directing an All-Star Cast including Anna Kendrick as Cinderella, Chris Pine as Prince Charming, Meryl Streep as the Witch, Johnny Depp as the Big Bad Wolf and many more. This being a Disney production, Sondheim himself has confirmed
that this adaptation is Lighter and Softer than the original, though reports on this front
have been
conflicting
(linked article contains spoilers for both versions).
Now has a character sheet.
---
Into the Woods provides examples of the following tropes:
---
"And happy ever after!"
"I wish..."