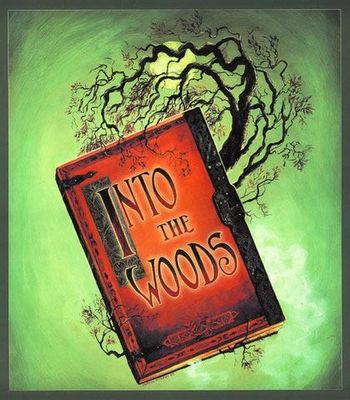 Into the Woods is a 1987 Musical by James Lapine and Stephen Sondheim that weaves together the fairy tales of Cinderella, Jack and the Beanstalk, Little Red Riding Hood, and Rapunzel.
In the first act, a baker and his wife who desperately want a child are told by the witch who cursed their family with infertility that she'll lift the spell if they do something for her first. She sends them on a quest that takes them in and out of the other stories, collecting Cinderella's slipper, Jack's cow, Little Red Riding Hood's...riding hood, and some of Rapunzel's hair. There's also a mysterious old man who appears from time to time, trying to help the quest along for reasons of his own. After a certain amount of deception, theft, and murder — you remember how these stories go — everybody gets what they were wishing for at the beginning, and there's a big song-and-dance number about how they will all live happily ever after.
Then comes the second act, where everybody has to grow up and face the consequences of their actions.
The show is one of Sondheim's most famous, alongside West Side Story, Sweeney Todd: The Demon Barber of Fleet Street and Company. In the year dominated by The Phantom of the Opera, it was able to snag three Tony Awards, for Best Score, Best Book, and Best Leading Actress (Joanna Gleason as the Baker's Wife). The original Broadway production has since been followed by a notably contentious revival in 2002, as well as numerous productions across the country at everywhere from the regional to the high school drama level. In 2012, a limited-run revival as part of New York's Shakespeare in the Park starred Donna Murphy as the witch — just months after she could be heard playing much the same role in Tangled. Another Broadway revival ran in 2022.
Many people are most familiar with the excellent version filmed by PBS
under its American Playhouse banner in 1991 and subsequently released on home video; this was based on the original Broadway production and had most of the same cast.
Walt Disney Pictures released a film adaptation on Christmas Day, 2014, with Lapine writing the screenplay, and Rob Marshall (Chicago and Pirates of the Caribbean: On Stranger Tides) directing an All-Star Cast including Anna Kendrick as Cinderella, Chris Pine as Prince Charming, Meryl Streep as the Witch, Johnny Depp as the Big Bad Wolf and many more.
Now has a character sheet.
---
Into the Woods provides examples of the following tropes:
Breaking the Fourth Wall:

In the original production, when the Baker happens upon Milky White in the middle of the woods after losing her earlier, he initially seems like he's going to lead her off by her rope, but after taking a look around to see if they are alone, he picks her up by the cow prop's handle on it's back and literally carries her offstage.
When the second act rolls around the characters

get a little sick of the Narrator and set on him, eventually making him the first death of the second act

.
The Witch (Bernadette Peters) also talks to one of the audience members when Rapunzel sings for her.
The final reprise of "Into The Woods" involves pointing at both fellow cast members and random audience members, while singing the lines "with me, you, her and him", underlining a major theme of the play: that everyone is in this together.

Broken Bird:

Little Red makes the mistake of listening to a strange wolf, and the Baker makes her cry by stealing her cape, though he returns it out of guilt. Then she's Eaten Alive and rescued from a wolf's stomach. In her next scene, she's extremely jittery from the trauma, pulling a knife on Jack when he compliments her wolfskin coat.
Cinderella goes to the festival just to have a good time. While the prince is interested in her, she's scared by the world of royalty. She spends a whole song talking about how her life at home isn't cushy but it's familiar and she has a role in it, and she might not belong in a palace where everyone is naturally beautiful and graceful. Deciding that the prince should at least get a chance to prove he wants a clumsy servant girl in that world, she leaves her shoe behind and runs off, exchanging the other heel for the loafers belonging to the Baker's wife. To a lesser extent, she's not immediately ladylike when trying on heels, defying Instant Expert. For most of Act 1, she's wearing sensible flats for cleaning and walking. When wearing golden slippers with a high heel, she's stumbling. It's partly why when the Baker's wife offers her flat loafers for running, she makes the trade.
This kicks in hard in Act II. A Fourth-Date Marriage does not a successful relationship make, particularly when you've married a Prince Charmless. Having a child doesn't automatically improve your life when you still have Parental Abandonment issues to deal with. Spending fourteen years locked in a tower with almost no one to talk to, and then wandering pregnant in the wilderness, does nothing for your mental health...and if you kill a Giantess's husband, she's not just going to forgive and forget...
Deadpan Snarker:

Little Red Riding Hood. She snarks at Jack especially, but on occasion to other characters, too.

LRRH: You can talk to birds?

The Witch. She snarks at everyone with abandon. This is taken up to eleven in "The Last Midnight" where she derides everyone because she is so tired of being stuck with selfish people who only think about their Happily Ever Afters.

Dead Person Conversation:

Cinderella with her mother's spirit when visiting her grave. The Stepmother later stooges off her daughters when they try to swipe Cinderella's fiance.
The Baker and his father in the final act. He's not completely dead — if only in the sense that you carry your parents with you forever. He hangs a lampshade on this.

The Baker and his wife near the very end.

Death Glare:

The Witch usually gets in a few before the curtain falls, most often when someone says something stupid. (Which is often.)
Played for Black Comedy when everyone gives one to the Narrator of all people when he won't shut up at a particularly bad time.
---
"And happy ever after!"
"I wish..."