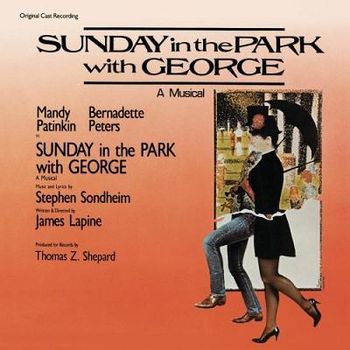 "White, a blank page or canvas. His favorite. So many possibilities..."
— George
A 1984 Musical with music and lyrics by Stephen Sondheim and book by James Lapine. It was the first in a series of shows the two collaborated on, among them Into the Woods and Passion. It is based around a fictional telling of the creation of the painting A Sunday Afternoon on the Island of La Grande Jatte, the Magnum Opus of painter Georges-Pierre Seurat.
It centers, in the first act, on a fictionalized version of Georges Seurat and his mistress, Dot. Dot loves Georges for his passion and his art, but can't understand him, nor does he pay as much attention to her as she needs. They are caught up by the stream of petty rivalries, jealousies, spats, and artistic pretentions that dominate the interactions of Parisians on their Sunday visits to La Grande Jatte. As criticism of his work mounts, Georges grows less and less attentive of the world around him, even as Dot leaves him and the facade of civility and happiness collapses completely. Much to everyone's surprise, Georges manages to create a painting that is not only a masterful display of color and light, but an image of a perfect, peaceful Sunday that has never, really, existed, but outlives all the squabbles and smugness of its actual subjects.
The second act focuses on Georges's fictional descendant, George, who is also an artist. George's particular medium, however, is not painting but "Chromolumes," a very avant-garde and cutting-edge idea of George's own invention. Sadly, they're utterly meaningless to everyone except George. And they're also expensive as hell to put together. How is he supposed to find inspiration, and, perhaps just as importantly, funding, in a world that really doesn't care about originality?
The original production, with Mandy Patinkin as Georges and Bernadette Peters as Dot, was captured on television in 1986
. A revival occured in 2008. A second revival, starring Jake Gyllenhaal as Georges, reopened the Hudson Theatre in 2017.
---
This musical contains examples of:
---