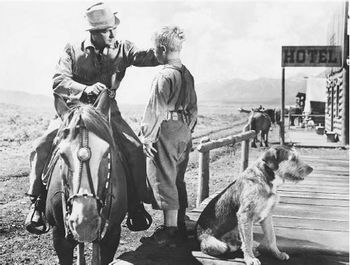 "Shane! Come back!"
The film Shane is a classic 1953 Western based on the novel of the same name by Jack Schaefer. It was directed by George Stevens.
Determined Homesteader Joe Starrett, his wife Marian (Jean Arthur), and their young son Joey are running a small farm in an isolated Wyoming valley. Rufus Ryker, a local cattle rancher, wants to force them—and the other Nesters—out of their homes; he offers money, but is more than happy to do it with guns and a few hired goons. In the midst of this ongoing conflict, a wanderer in buckskin clothing named Shane (Alan Ladd) meets Starrett, and after a quickly resolved misunderstanding, Starrett hires Shane to work for him and help protect his family. Shane soon becomes an idol to Joey, who wants to learn how to shoot and hopes Shane can do the teaching. This pushes Shane, Starrett, and Marian into a heated debate about the appropriateness of guns and violence.
Shane ultimately protects Starrett and his family using violence, knowing that this means he will never be able to settle down to a peaceful life. He is cursed by his previous choices in life to always be a gunslinger, always drifting. After the film's climactic gunfight, Shane tells Joey to run home and tell his mother that she has her wish—that there are "no more guns in the valley". Of course, for this to be true, Shane himself has to leave.
The film's ending is the subject of a famous and long-standing debate: after riding off into the sunset, did Shane live or die?
This is the last film for Jean Arthur, whose Hollywood career dated back to The Roaring '20s. Jack Palance played Wilson the murderous gunman. It was essentially remade and combined with High Plains Drifter as the Clint Eastwood film Pale Rider, with Eastwood basically playing Alan Ladd's role.
---
Shane includes the following tropes:
---