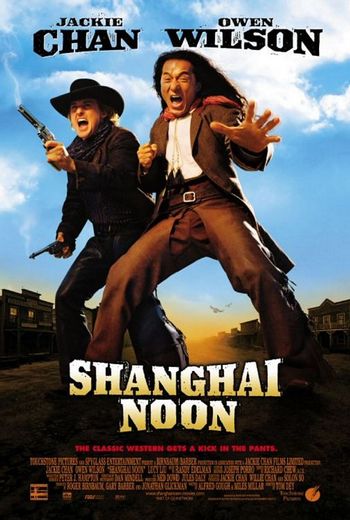 Shanghai Noon is a martial arts/Western comedy film starring Jackie Chan and Owen Wilson. Chan plays a Chinese guardsman, Chon Wang, who travels to America to rescue the kidnapped Imperial princess Pei-Pei (Lucy Liu), teaming up along the way with disreputable gunslinger Roy O'Bannon (played by Owen), a small time robber with delusions of grandeur. Together, the two forge through one misadventure after another. Directed by Tom Dey, it was written by Alfred Gough and Miles Millar. The movie, set in Nevada and other parts of the west in the 19th century, is a juxtaposition of a western with a Jackie Chan Martial Arts Movie. It also has elements of comedy and the "Buddy Cop" film genre, as it involves two men of different personalities and ethnicities (a Chinese imperial guard and a Western outlaw) who team up to stop a crime.
---
In the sequel directed by David Dobkin, Shanghai Knights, they travel to Victorian London to foil a plot against the Queen. Also starring Singaporean actress Fann Wong
as Chon Wang's sister, Chon Lin. In the 1880's, Chon Wang's father and keeper of the Imperial Seal has been murdered by Parliament and royal family member Lord Rathbone, who steals the Imperial Seal, with Chon Wang's sister, Chon Lin, witnessing the murder. Lin follows Rathbone to London to kill him, while sending Wang a letter telling him of the murder. Wang then travels to New York for Roy O'Bannon. Together they travel to England and meet up with Lin to defeat Rathbone and get the Imperial Seal back.
---
This film series provides examples of:
Accidental Marriage: Chon Wang ends up accidentally married (from his POV) to the Sioux chief's elder daughter (who knew exactly what she was doing). She follows him around for the rest of the movie, periodically saving his ass, only to end up trading him in for Roy at the end.

She ditches them BOTH in the sequel.

Sioux Shaman: [to the chief] Hey, it could be worse. She could have married a white guy.

Action Girl:

Princess Pei-Pei gets a brief spurt of ass-kicking against Lo Fong at the end of the first film.
Falling Leaves never engages in onscreen violence, but stealthily destroys a jail and sabotages a hanging to aid Chon and Roy using a few well-placed animals and one bullet.
Lin, is a very capable martial artist in the sequel.

All Animals Are Dogs: A horse who knows "sit" and probably a few other commands. Played for laughs, as it's a partial parody of the Improbably Well-Trained Horse common to a lot of Westerns.
All There in the Manual: Although she's never properly identified and is credited as "Indian Wife", Chon's Indian wife is called Falling Leaves, as noted by the title of the Deleted Scene "Falling Leaves Takes A Dip".
---