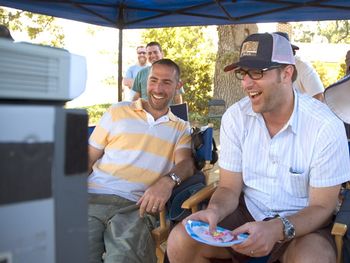 Aaron Seltzer and Jason Friedberg are a pair of writer/directors that collaborate with each other on all of their projects. They create comedic movies that parody and reference pop culture in the Zucker, Abrams and Zucker style of
Rapid-Fire Comedy
without concern for the overarching plot or characterization.
Their first official project was the 1996 Leslie Nielsen spy parody Spy Hard, which was directed by Jason's father Rick Friedberg. It received a lukewarm reception and little notice at the box office. Their next contribution to parody films was one of the many scripts that was folded into the first Scary Movie.
The duo finally attracted commercial success on their own with the 2006 film Date Movie. While panned by critics, the film made back triple its meager budget and secured them a contract to do a couple more films. They became known for turning out simple, cheap, and quickly produced parody films during the mid-late 2000s, releasing back to back over 2007 and 2008, the latter two films coming out within mere months of each other. Their movies were routinely Not Screened for Critics. The few critics that did see them had nothing but scorn for them. However, the duo's successes tend to involve the low-cost of their movies (not a one of them has a budget over $20 million) and their release dates during the typical Dump Months of January and February when the competition is light and a film simply cashing in on a pop culture craze can stand out.
After Disaster Movie flopped even by their standards (largely due to popping up in August, which has become a much more crowded Dump Month in recent years), they took a short break before jumping on board the The Twilight Saga train with Vampires Suck. While the latter was still not well received, it did slightly better critically than their previous couple of films and returned them to box office glory. They have since released two more projects in 2013, The Starving Games' a clear parody of The Hunger Games, and Superfast! a The Fast and the Furious parody, in 2015.
Due to the nature of their films largely being simplistic parodies of whatever is popular at the time, a number of other parody films in the same style have been wrongly attributed to them. This includes Not Another Teen Movie, Superhero Movie (which was in fact by a different pair of Scary Movie alumni), and Dance Flick (which was actually the Wayans brothers).
Films directed by the duo:
<!—index—>
The Starving Games
Superfast!
<!—/index—>
This duo tends to attract writing just as negative as their own, so the page is locked.
---
Their work provides examples of:
---