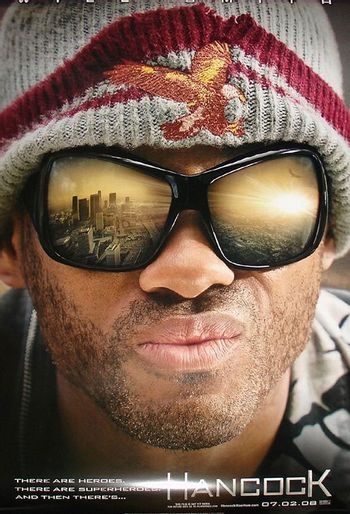 Hancock is a 2008 superhero film starring Will Smith as the titular hero.
The movie is about a drunken jerkass superhero (played by Will Smith) who has been stopping crime in Los Angeles for years. He is incredibly clumsy and careless and has absolutely zero Hero Insurance, and every time he stops crime, something gets horribly wrecked, only annoying the city's denizens more and more. Each additional crime he stops raises the level of enmity the Angelenos have for him, and it isn't helped by the fact that they're all aware he cannot be restrained.
While he still opts to fight the bad guys, there is absolutely no public support for him... until he saves the life of Ray (Jason Bateman), an idealistic marketing executive. Ray convinces him to clean up his act: to change his image from being a clumsy jerkass with no care for property damage to actually acting and dressing the part of a superhero, so that the people he saves will actually be happy to see him. Charlize Theron stars as Mary, Ray's wife, who is one of the Angelenos who dislike Hancock.
Soon Hancock opens up about himself, where he came from, and why he is constantly pissed off. It delves into his Super Hero Origin and there is a constant worry that everyone has a weakness, and Hancock doesn't know what his is.
The film's name is a case of title dissonance for British viewers of a certain age, who irrevocably associate the name with Tony Hancock, of Hancock's Half Hour fame. The actual reference, for those not well-versed in American history, is to John Hancock, who famously signed the American Declaration of Independence with a much larger signature than the other signers, leading to "Hancock" becoming an idiomatic synonym for "signature."
---
Provides Examples Of:
---