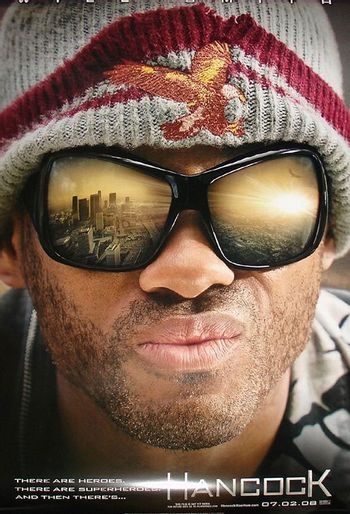 "Call me an asshole...one more time."
— Hancock
Hancock is a 2008 film directed by Peter Berg. It serves as a Deconstructive Parody of the superhero genre, following a superpowered individual who very much doesn't fit the standard heroic archetype.
Set in Los Angeles, the film follows the titular Hancock (Will Smith), a homeless, alcoholic jerkass who happens to be an invincible Flying Brick. While he does catch criminals, the city's patience with him has completely run out — his heroics often resemble drunken rampages more than anything, frequently inflicting massive property damage and causing endless inconveniences. Unfortunately, even with public opinion so arrayed against him, there's nothing anyone can really do to stop him.
Enter Ray (Jason Bateman), an idealistic marketing executive whose life Hancock saves. Seeing something more in the would-be hero, Ray comes up with a plan to reinvent his image into that of a proper crimefighter. In the process, Hancock opens up about his Mysterious Past and the reasons for his behavior, slowly bonding with Ray and his wife, Mary (Charlize Theron). But every hero has a weakness, and for Hancock to learn what his is, he'll have to delve into his forgotten past...
The film's name is a case of title dissonance for British viewers of a certain age, who irrevocably associate the name with Tony Hancock, of Hancock's Half Hour Fame. Follow the link for his Creator page. The actual reference, for those not well-versed in American history, is to John Hancock, who famously signed the American Declaration of Independence with a much larger signature than the other signers, leading to "Hancock" becoming an idiomatic synonym for "signature."
---
Provides Examples Of:
---