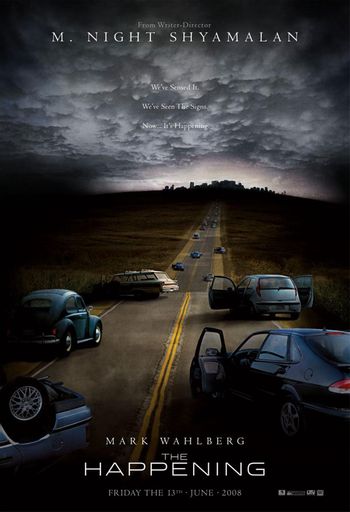 "Plastic. I'm talking to a plastic plant. I'm still doing it."
— Elliot Moore
The Happening
is a 2008 science-fiction horror film written and directed by
M. Night Shyamalan
.
Something big is going down; people all over the East Coast of the United States start to kill themselves for no reason, and nobody can explain the mass suicides. High school teacher Elliot Moore (Mark Wahlberg) tries to escape Philadelphia with his wife Alma (Zooey Deschanel), his colleague and friend Julian (John Leguizamo), and Julian's daughter Jess (Ashlyn Sanchez).
At first, the movie takes a Hitchcockian approach to the horror — the suicides merely happen without explanation — until somebody does explain it; plants, in response to human overpopulation, are emitting a neurotoxin that makes a person's survival instinct kick into reverse.
Compare Alive: The Final Evolution and Bird Box.
---
This film provides examples of:
---