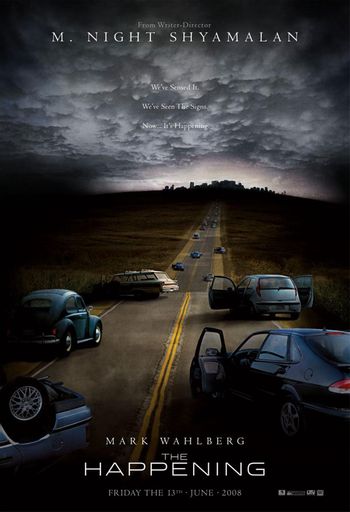 "Alright, there appears to be an event happening. Central Park was just hit by what seems to be a terrorist attack. They're not clear on the scale yet. It's some kind of airborne chemical toxin that's been released in and around the park. They said to watch for warning signs. The first stage is confused speech. The second stage is physical disorientation, loss of direction. The third stage... is fatal."
The Happening is a 2008 science-fiction horror film written and directed by M. Night Shyamalan.
Something big is going down; people all over the East Coast of the United States start to kill themselves for no reason, and nobody can explain the mass suicides. Amid the chaos, school teacher Elliot Moore (Mark Wahlberg) tries to escape Philadelphia with his wife Alma (Zooey Deschanel), his colleague and friend Julian (John Leguizamo), and Julian's daughter Jess (Ashlyn Sanchez).
At first, the movie takes a Hitchcockian approach to the horror — the suicides merely happen without explanation — until somebody does explain it; plants, in response to human overpopulation, are emitting a neurotoxin that makes a person's survival instinct kick into reverse. The film's marketing also emphasized it being Shyamalan's first R-rated film.
Compare Alive: The Final Evolution and Bird Box.
---
This film provides examples of:
---