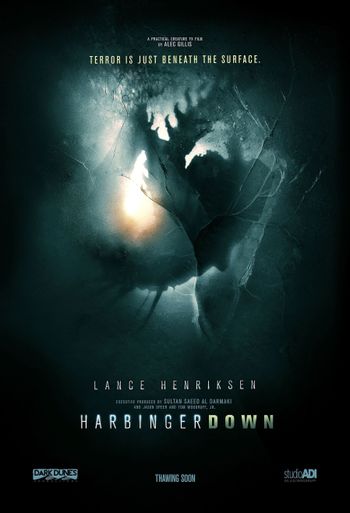 A 2015 Sci-Fi Horror film directed by Alec Gillis and starring Lance Henriksen.
Two grad students, Sadie and Ronelle, along with their professor Stephen, are out on Sadie's grandfather's crabfishing boat, the Harbinger, conducting a study of the effects of global warming on whales' migratory patterns. Completely by accident, Sadie discovers an old Soviet space capsule frozen in the ice, complete with dead cosmonaut inside. It soon becomes apparent, however, that they should have left it in the ice, as it turns out a rather nasty species of parasitic tardigrade was contained in the capsule.
And now any of them could be infected...
Worth noting that Harbinger Down was written and directed by Gillis and produced by Thomas Woodruff, Jr.; the founders of the special effects company Studio ADI (better known for their work on the Alien franchise, Tremors and Mortal Kombat: The Movie). They had previously done Practical Effects for The Thing prequel, however, most of their work was covered up by CGI in post-production. After posting behind the scenes footage of their work and receiving an outpouring of support, ADI Kickstarted their own film, using mainly practical effects.
It was also released under the title Inanimate.
---
This film contains examples of:
---