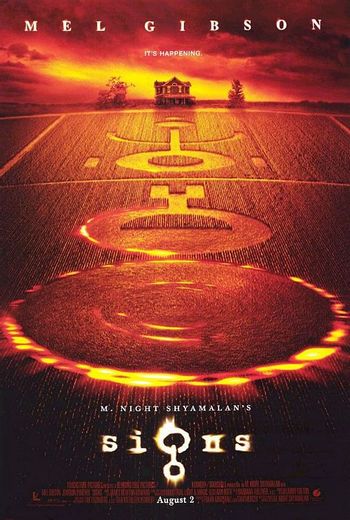 "So what you have to ask yourself is what kind of person are you. Are you the kind that sees signs, sees miracles? Or do you believe that people just get lucky? Or, look at the question this way. Is it possible that there are no coincidences?"
— Graham Hess
A 2002 film, written and directed by M. Night Shyamalan, starring Mel Gibson and Joaquin Phoenix. Weird things start happening all over the globe. Strange sightings of unearthly creatures, crop circles, and other unexplained phenomena start occurring.
The story focuses on the Hess family, consisting of a faithless former preacher, Graham (Gibson), his asthmatic son, Morgan (Rory Culkin), his ostensibly autistic daughter, Bo (Abigail Breslin) and his ne'er do well younger brother, Merrill (Phoenix), who live in a podunk farmland community. Like the rest of the world, they start thinking that it's an Alien Invasion being done as a stealth infiltration. The entire story is told through this farming family in Pennsylvania as they watch the paranoia grip the world through their television set. Of course, since an off-screen repulsion isn't too dramatic, there's still a fight scene. Oh, and there's a lot of incredibly blunt religious symbolism, with the story serving more as a story about a man finding his faith in God again as the "signs" start to coalesce.
---
This film provides examples of: