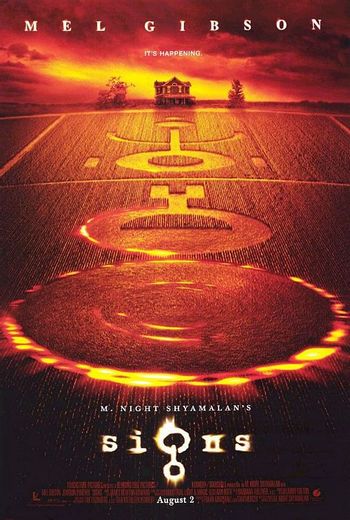 "So what you have to ask yourself is what kind of person are you. Are you the kind that sees signs, sees miracles? Or do you believe that people just get lucky? Or, look at the question this way. Is it possible that there are no coincidences?"
— Graham Hess
A 2002 film, written and directed by M. Night Shyamalan, starring Mel Gibson and Joaquin Phoenix.
The story focuses on the Hess family: faithless former preacher Graham (Gibson), his asthmatic son Morgan (Rory Culkin), his ostensibly autistic daughter Bo (Abigail Breslin), and his ne'er-do-well younger brother Merrill (Phoenix), a former baseball player. A few short months after the accidental death of his wife, a newly widowed Graham struggles to raise his children with Merrill's help, while also grappling with his newly shaken faith in God. Having abandoned the priesthood following his wife's death, Graham now lives as a simple farmer in rural Pennsylvania. One day, however, the Hess family's quiet life is shattered by news of a bizarre series of events: crop circles are appearing around the world, radios are picking up strange signals from space, and multiple witnesses report sightings of unearthly creatures. In the ensuing weeks, the people of the world gradually realize that Earth has been targeted by invaders from another world, and advance agents are stealthily infiltrating human civilization as a precursor to all-out invasion.
In a unique twist, however, the ensuing Alien Invasion story is told entirely from the perspective of the Hesses as they attempt to survive the invasion while hiding out on their remote farm. Apart from a single fight scene, there's virtually no action, with the story instead focusing on the sheer panic and terror of an ordinary family caught in the path of an attack by bizarre creatures that they don't understand. To make the story as tense and suspenseful as possible, Shyamalan's direction proudly embraces Nothing Is Scarier: we only get a few brief glimpses of the aliens, we learn virtually nothing about them (or their motivations), and most of the information about the invasion is relayed via brief snippets of news broadcasts from the Hesses' television (with scenes of mass pandemonium left entirely unseen).
In another departure from conventional alien invasion narratives: the aliens are never shown to use any sort of advanced technology apart from their spaceships (which are permanently rendered invisible with cloaking devices), making them come across more like monsters than traditional alien invaders. At heart, the film is essentially a drama about a widowed father's spiritual crisis as he struggles to interpret a series of enigmatic signs from above, inspiring him to question whether life has an inherent meaning and purpose.
Notable for being the last of M. Night Shyamalan's films to receive widespread critical acclaim before his reputation as a filmmaker began to decline following the release of The Village, it's something of a spiritual successor to his previous efforts The Sixth Sense and Unbreakable, being a similarly dark and introspective family drama that presents a uniquely unconventional take on a popular genre of speculative fiction. After putting a new spin on ghost stories and superheroes, Signs completes the trifecta by tackling alien invasions. Like its two predecessors, the film largely eschews flashy action and spectacle in favor of using the premise as a vehicle for thematic exploration and character studies.
And, of course, it does have a plot twist at the end.
---
This film provides examples of: