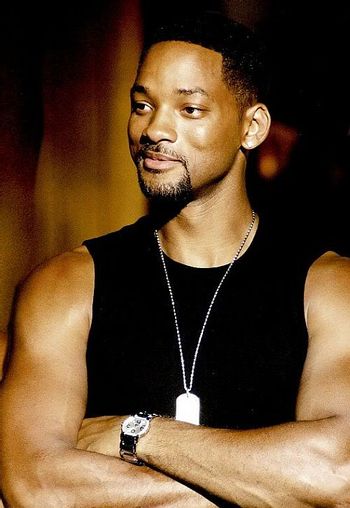 "Whether he's playing a cool young fighter pilot in
Independence Day
or a 19th century steampunk cowboy in
Wild Wild West
or a Converse-wearing Luddite in
I, Robot
, there's something distinctly ... Will Smithian about every piece of dialogue he delivers. All of the other actors in his movies are saying lines in the script that either further the plot or set up jokes, while Will Smith gets to say things like 'Aw, hell no' and 'Now that's what
I'm
talking about' and a variety of other 'Will Smith lines,' for lack of a better term."
—
Daniel O'Brien
,
Cracked
,
"4 Reasons Why Bad Movies Are Allowed to Happen"
Willard Carroll Smith II (born September 25, 1968 in Philadelphia, Pennsylvania) is an American actor and rapper. In West Philadelphia born and raised, on the playground is where he spent most of his days, chillin' out, maxin', relaxin' all cool, until Smith first entered the public eye as part of DJ Jazzy Jeff & The Fresh Prince, a lighthearted hip-hop duo with hits including "Parents Just Don't Understand" and "Summertime". He really came to fame with the NBC series The Fresh Prince of Bel-Air, a successful and iconic sitcom that he only signed onto because most of his possessions were taken by the IRS as punishment for tax evasion.
Smith then moved on into what has become a very successful acting career. While initially focused on lighthearted comedies and popcorn action, his Uncle Tomfoolery days are pretty much gone, with Smith playing semi-serious or serious roles most of the time now and his comedic acting not being race-based. It also helps that he is the undisputed lead in any movie he's in, one of the few Black actors at this status. His most famous roles... well, the list is sort of legendary. Just have a look at his IMDB profile
. Adding to this, even his stinkers tend to suck in tons of money; the failure of Wild Wild West prompted Smith to observe, "That's how big I am. I bomb over $100 million." Of all the films Smith has been the star of, only three (all biopics) have failed to make over their budgetsnote the Muhammad Ali biopic Ali (which was still a critical if not financial success), Concussion, and King Richard — Smith is that much of a box office draw. He's also one of the best-paid actors, pulling salaries estimated at $20 million per movie.
In any given movie, expect a Shirtless Scene and expect him as well to say "AW, HELL NAW!" at some point. The 44th President of the United States also wouldn't mind being portrayed by him in a movie.
Smith has been married to Jada Pinkett Smith since 1997, and they have two children who are also in the acting and music business: Jaden and Willow. (He additionally has a son, Trey, from an earlier marriage.) He is also the founder of Overbrook Entertainment (named after the high school in Philly he attended), whose films he produces.
Two decades after his first nomination, Smith finally won an Academy Award for Best Actor for his role in King Richard in 2022. Unfortunately for him, this was after he controversially slapped Chris Rock for making a joke about his wife during the ceremony, which significantly overshadowed both his win and the ceremony as a whole in media coverage. He subsequently publicly apologized to Rock and resigned from the Academy of Motion Picture Arts and Sciences, and eventually received a ten-year ban from attending the Academy Awards and affiliated ceremonies.
Not to be confused with legendary tough-guy actor William Smith
. Or Will Smith of Whiskey Media's "Tested" site (as much as they like to joke he's the same person). Or with the author Wilbur Smith.
Also, tropes that specifically pertain to his years with DJ Jazzy Jeff should be put on their own page.
---
Filmography
Discography
With DJ Jazzy Jeff
Rock the House (1987)
He's the DJ, I'm the Rapper (1988)
And in This Corner... (1989)
Homebase (1991)
Code Red (1993)
Solo
Big Willie Style (1997)
Willennium (1999)
Born to Reign (2002)
Lost and Found (2005)
His works provide examples of:
---