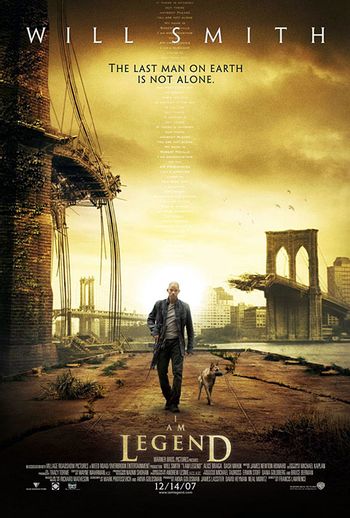 I Am Legend is a 2007 post-apocalyptic action thriller film directed by Francis Lawrence, written by Akiva Goldsman, and starring Will Smith. It is a loose film adaptation of Richard Matheson's novel of the same name (and the only one to bear the name).
The film is set in 2012 New York City, three years after the outbreak of a man-made virus originally created to cure cancer by genetically re-engineering the measles virus led to 99% of the world's population being infected. Those who were not killed were turned into hostile mutants called Darkseekers, named for their extreme vulnerability to sunlight.
Virologist Robert Neville (Smith) is the last human left in the city, and maybe the world. As he is immune to the virus, he works to create a remedy while defending himself against the Darkseekers, with his German Shepherd dog Sam being his sole companion.
The film notably has two endings: one which was intended to be included by the film that was closer in spirit to the original novel that left the door open for a sequel, and a more action-driven Focus Group Ending that was shot for the theatrical release and made the film a standalone. The latter was eventually released on home video formats with an alternate cut of the movie, which hyped up the different resolution as a "controversial ending".
In 2023, it was revealed that a sequel, following the events of this version of the film, was in development. Smith is set to return as an older version of Robert Neville and co-produce alongside Michael B. Jordan, who is set to co-star, with Goldsman returning to write the script.
Four animated shorts which tell unrelated side stories about the rest of the film's world were also released as tie-ins.
---
This film provides examples of:
---