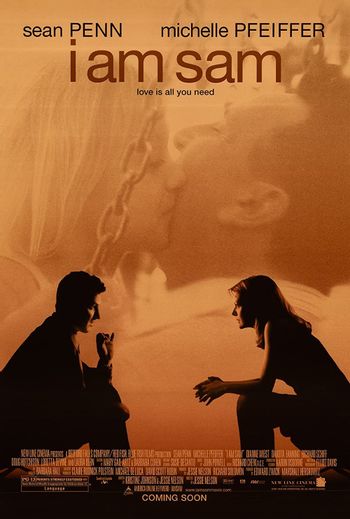 Rita: I just don't know what to call you: retarded, mentally retarded, mentally handicapped, mentally disabled, intellectually handicapped, intellectually disabled, developmentally disabled...
Sam: You can call me Sam.
I Am Sam (stylized i am sam) is a 2001 American drama film written and directed by Jessie Nelson, and starring Sean Penn as a father with a developmental disability, Dakota Fanning as his inquisitive seven-year-old daughter and Michelle Pfeiffer as his lawyer.
Sam, a mentally handicapped man, gives shelter to a homeless woman. Nine months later, she gives birth to a baby girl and then vanishes onto a bus, leaving Sam holding their baby. Though he's not able to understand all the implications of this, Sam does his best to raise the girl, whom he names Lucy, with the help of some friends.
Lucy turns out to be very bright, but after a while she realizes the gulf between her own intelligence and her father's, and she even starts to act dumb - pretending that she can't read, and so on. When he calls her on this, she confesses that she never wants to be smarter than he is. She's six years old at the time.
Shortly thereafter, the school realizes that Lucy is being raised by a mentally handicapped person, and they report it. After an incident where Sam mishandles another child while preparing for Lucy's seventh birthday party, causing the child's father to retaliate, Lucy gets taken into foster care pending a court hearing to figure out if Sam is capable of raising her. Sam seeks out pro-bono lawyer Rita Harrison, who is initially resistant to the idea of representing him, but eventually gets up to bat with everything she has.
---
This film provides examples of:
---