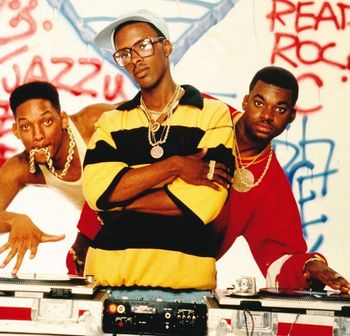 Listen homeboys,
Don't mean to burst your bubble,
But girls of the world ain't nothing but trouble!
So next time a girl gives you the play
Just remember my rhyme and get the hell away!
We know what you're probably thinking right now: "There's already a Will Smith page on TV Tropes!"
And that's true. However, that page is centered on his acting career and his music post-1993. This page is for his time with DJ Jazzy Jeff from 1985-1994. Any examples that only apply to his solo work should go there.
DJ Jazzy Jeff And The Fresh Prince are a Hip Hop duonote originally a trio— more on that later from West Philadelphia, Pennsylvania. They're best known for their radio-friendly and storytelling styles of hip hop, with hit singles like "Girls Ain't Nothing But Trouble", "Summertime" and "Parents Just Don't Understand." What's little known about them is that they met completely by chance.
In 1985, Jeff Townes was performing at a house party just a few doors down from where Will Smith was living at the time, and was missing his hype man. Will decided to fill in, and the two quickly felt strong chemistry, to the point where Jeff was genuinely upset when his original hype man finally showed up.
Not long after, they decided to join forces as a group, dubbing themselves "DJ Jazzy Jeff and The Fresh Prince". Will then enlisted friend and local beat-boxer Clarence "Ready Rock C" Holmes to the group, making them a trio. Philadelphia-based record label Word Up! released their first single "Girls Ain't Nothing But Trouble" in late 1985. The single soon became popular, becoming a hit a month before Will graduated high school. Their success got the attention of Russel Simmons and Jive Records. Their debut LP Rock The House, originally released on Word Up!, was re-released by Jive in 1987, selling 300,000 copies.
Their 1988 follow up, He's The DJ, I'm The Rapper. made them hip hop stars. Recorded mostly in the United Kingdom and standing out as the first double-LP by a hip-hop act, they released the single "Parents Just Don't Understand," which peaked at number 12 on the Billboard Hot 100, and earned the group the first-ever "Best Rap Performance" Grammy Award. The album's second single, "Nightmare on My Street", was considered for inclusion in the A Nightmare on Elm Street 4: The Dream Master, but was rejected. Jeff and Will released it anyway, and the song became their second crossover hit, peaking at number 12 on Billboard. Unsurprisingly, they were promptly sued for copyright infringement by New Line Cinema, forcing the group to bury the tapes of the song's music video note the video was eventually leaked 30 years later, causing Sony and New Line to work out a deal to release it legally
., and pay royalties for the samples used in the song. Despite the legal trouble, the album went Double Platinum.
After the legal dust settled, New Line offered the lead roles of House Party to the group, seeing their potential. Both Jeff and Will declined it, saying they weren't interested in making films at the time. The roles went to Kid 'N Play instead.
Things began to go south for the duo in 1989. Their third album And In This Corner... only went gold, and their lead single "I Think I Can Beat Mike Tyson" failed to make an impact on the charts despite Tyson himself making a cameo in the music video. Not helping things was Will's money troubles. Will had blown through nearly three million dollars without giving a cent to the IRS. As a result, the IRS began to take all of his assets from him until he paid up. Ready Rock C would leave the group a year later due to creative differences.
Soon after the departure of Ready Rock C, Will was approached by NBC and famed record producer Quincy Jones about making a sitcom based around himself. This led to the creation of The Fresh Prince of Bel-Air, which boosted Will's exposure (and allowed him to pay off the IRS via garnishing roughly 25% of his check for the first three seasons), and paved the way for other black musicians to have their own sitcoms such as Living Single with Queen Latifah, In the House with LL Cool J (which incidentally crossed over multiple times with the Bel Air cast) and Moesha with Brandy. Jeff would appear in Bel Air as the recurring character "Jazz", who was almost always tossed out of the Banks' household every time he appeared. Will also recorded the theme song for the show, which was released in the Netherlands in 1990, and peaked at number 3 on their music charts.
With a boost in exposure from the show, and some pocket money left over from the first season, Will and Jeff released their fourth album Homebase, which went platinum and included their biggest hit in the USA to date, "Summertime," peaking in the Hot 100's Top Five and netting them their second Grammy Award. The album was also notable for the change to a more mature style than their previous releases, which served as the precursor to the style Will would use on his solo albums. The duo also released a song called "Higher Baby" as part of the 1992 Barcelona Olympic Games compilation Barcelona Gold.
Their fifth and final album, Code Red, didn't arrive until 1993. At this point, the rap scene had shifted to the west coast, and fans were all but shunning pop-friendly rap acts. In response, they used a much harder sound than ever before, utilizing more soul and jazz samples than their previous releases. Code Red went gold, and gave the group their first UK number-one single in "Boom! Shake The Room", but did not reach the success of Homebase.
After Code Red, Will and Jeff split to focus on their own solo projects, and occasionally do reunion performances once in a while. The duo went on their first tour in decades in 2016.
---
Discography
Untitled Demo Mixtape (1985)
Rock the House (1987)
He's the DJ, I'm the Rapper (1988)
And in This Corner... (1989)
Homebase (1991)
Code Red (1993)
He's The Troper, I'm The Example:
---