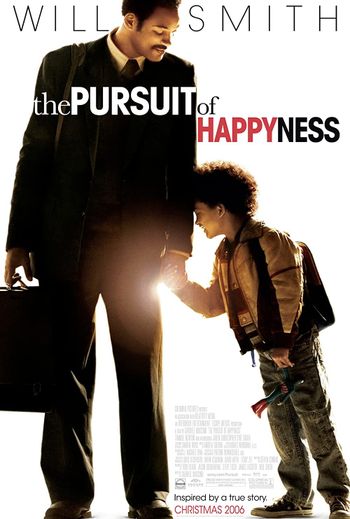 "It was right then that I started thinking about Thomas Jefferson on the Declaration of Independence and the part about our right to life, liberty, and the pursuit of happiness. And I remember thinking, 'How did he know to put the pursuit part in there?' That maybe happiness is something that we can only pursue and maybe we can actually never have it. No matter what. How did he know that?"
— Christopher Gardner
The Pursuit of Happyness is a 2006 biographical film based on the life of Chris Gardner, a self-made millionaire played by Will Smith.
Gardner invests the family savings in a new type of bone density scanner which is more expensive but with clearer imaging. This investment ultimately causes troubles between himself and his wife, causing her to leave him with their young son, Christopher (played by Smith's real life son, Jaden). Gardner then gets a 6-month unpaid internship at Dean Witter, a brokerage firm.
The "unpaid" part makes life very difficult, and it's not long before Gardner and his son are homeless, and have to rely on each other to have a chance at an actual job.
---
This film provides examples of:
Unlocking the Talent: The whole point of the film. Though Chris was certainly never stupid, he put himself in a hard place by making so many of his machines that couldn't sell. When he realizes he has a chance at becoming a broker, he puts his intelligence to good use.
---