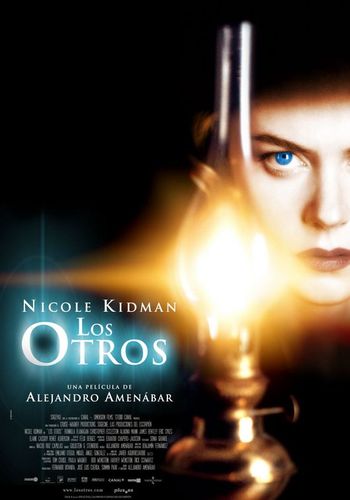 The Others is a 2001 supernatural horror film directed by Alejandro Amenábar, and starring Nicole Kidman, Christopher Eccleston and Fionnula Flanagan. It became the first English-language film ever to receive the Best Film Award at Spain's Goya Awards.
The film is set on the British Channel Island of Jersey in the immediate aftermath of World War II, and follows devout Catholic Grace Stewart and her two young children, Anne and Nicholas, who both suffer from a rare disease which means that they cannot risk exposure to sunlight as it will be fatal to them. The arrival of three servants coincides with a number of odd and increasingly disturbing events - disembodied voices, strange noises and the children claiming to have seen several ghostly figures - causing Grace to fight to save her children while struggling to keep her sanity.
Known for its multiple reveals and Twist Ending. Beware of spoilers below.
This film provides examples of:
---