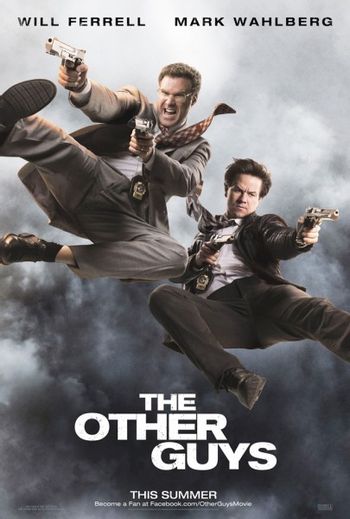 A 2010 Adam McKay action comedy that satirizes the Buddy Cop picture.
The Other Guys focuses on two New York City police detectives Allen Gamble and Terry Hoitz (Will Ferrell and Mark Wahlberg) that have been office pencil pushers for years, while the station's two top cops Highsmith and Danson (Samuel L. Jackson and Dwayne "The Rock" Johnson) garner praise from not only the NYPD, but from the entire city for their cowboy, take-no-prisoners antics.
After an unforeseen event forces the department to bring two new cops to the forefront to deal with a corporate embezzlement scheme, our two mismatched desk jockeys finally get the chance to prove their mettle and show that they can save the day... all without getting each other killed or driving each other crazy.
Compare Hot Fuzz and Mystery Men.
---
This film features examples of:
---