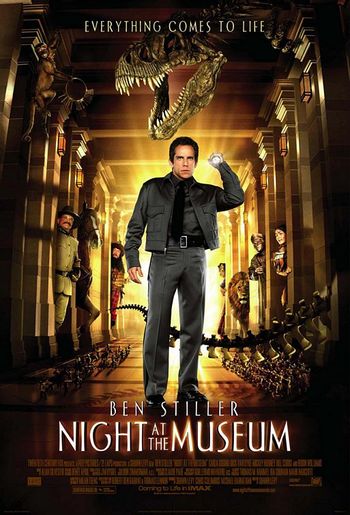 Larry: So everything in the museum comes to life every night?
Theodore Roosevelt: Exactly.
Larry: And I'm supposed to do what?
Theodore Roosevelt: You're the night watchman, Lawrence.
Night at the Museum is a series of family comedy films produced by 20th Century Fox and directed by Shawn Levy, starring Ben Stiller as Larry Daley, the night guard for the New York American Museum of Natural History, who learns that the exhibits come to life at night. It is based on the 1993 children's book The Night at the Museum by Milan Trenc.
The first film was released on December 22, 2006, written by Robert Ben Garant and Thomas Lennon of Comedy Central's Reno 911! and MTV's The State, and directed by Shawn Levy. A new novelization of the screenplay by Leslie Goldman was published as a film tie-in. Larry is a struggling inventor who is trying to bond with his son, so to make ends meet he takes a job as the night guard for the AMNH. He learns from the retiring guards on how to deal with the various exhibits as they come to life because of a magical golden tablet displayed with Egyptian royalty Ahkmenrah. Recognizing the responsibility he has to keep order, he also has to fend off a nefarious plot to plunder the museum of its magic and riches.
The sequel, subtitled Battle of the Smithsonian, was released in May 2009. While the New York museum is being renovated, many exhibits are placed in storage at the Smithsonian. This brings a new slew of problems, as Ahkmenrah's brother Kahmunrah is animated at the Smithsonian and seeks to use the tablet's powers to open a portal and unleash his army. To stop him and protect the other exhibits, Larry teams up with Amelia Earhart (Amy Adams) to unravel the mystery of the tablet and stop Kahmunrah.
The second sequel, Secret of the Tomb, was released on December 19, 2014. The final mystery of the origin of the tablet is revealed as its magic seems to be wearing out and Larry searches for a way to revive its power. The British Museum in London holds the answers and further hijinks abound. It was one of the last film roles for Robin Williams before his suicide in August 2014, and for Mickey Rooney, who passed away in April of the same year; Rooney's appearance allowed him to become the first (and possibly only) actor to appear in a motion picture in 10 consecutive decades.
In 2020, an animated film with the tentative subtitle Kahmunrah Rises Again was announced for Disney+, to release sometime in 2021. It follows Larry's now-grown son Nick, who has hesitantly followed in his father's footsteps as a night guard.
---
This film series contains examples of the following tropes:
open/close all folders
Series-Wide
Night at the Museum (Original)
Battle of The Smithsonian
Secret of the Tomb
---