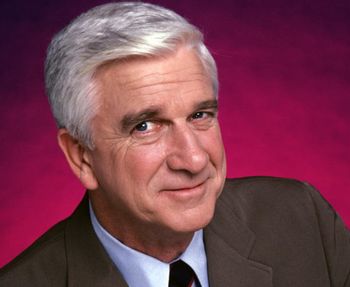 "I'm afraid if I don't keep moving, they're going to catch me... I am 81 years old and I want to see what's around the corner, and I don't see any reason in the world not to keep working. But I am starting to value my down time a great deal because I am realizing there might be other things to do that I am overlooking."
— Leslie Nielsen (reflecting on his career)
Leslie William Nielsen OC (11 February 1926 – 28 November 2010) was a Canadian-born actor and comedian. Originally trained at Toronto's Neighborhood Playhouse, he first became known as a dramatic lead debuting in The Vagabond King. Though the movie wasn't a success, Nielsen soon achieved fame as Commander John J. Adams in Forbidden Planet, and subsequently starred in many films and television shows as a romantic or dramatic leading man.
He is, however, best known for his comedic career, starting with a Casting Gag role in Airplane!, where his deadpan delivery in the face of nonstop absurdity stole the film. The film's success rejuvenated his career, and Nielsen soon found himself starring in other comic works, most notably Police Squad! and The Naked Gun. All together, he has appeared in over a hundred films and 1,500 television programs, and was so well-loved as a comical actor that Roger Ebert gave him the Affectionate Nickname "Laurence Olivier of spoofs". (To which Nielsen reportedly responded, "Wouldn't that make Olivier the Leslie Nielsen of Shakespeare?")
In many of his comedic roles, he grew somewhat notorious for keeping his fellow actors (and even the directors) on their toes by concealing and manipulating a whoopee cushion, making farting noises with it at unexpected times, often cracking the whole cast and crew up.
He died of complications from pneumonia in November 2010, at the age of 84.
His epitaph reads: "Let 'er Rip". Because that's how he rolls. When interviewed, he asked what he would want inscribed on his gravestone, and he answered with this. And yes, he added in a perfectly timed squeeze of the whoopee cushion to punctuate the answer. (You can virtually visit his grave on Find A Grave, here
.)
His start as a dramatic actor, which eventually transitioned into doing comedies instead. This inspired the name of the trivia item Leslie Nielsen Syndrome (the inversion of Tom Hanks Syndrome) on this very Wiki.
---
Leslie Nielsen appears in the following works detailed on TV Tropes:
---
Leslie Nielsen's career and works demonstrate the following tropes:
No Sense of Humor: Allegedly, the reason Leslie was so good with his famous deadpan delivery was because he genuinely didn't understand the comedy behind the lines he was given, similar to stories about Margaret Dumont. However, see all the stories about the whoopee cushion.
Reasonable Authority Figure: Many of his roles. Once the comedian phase begun, because doctors/priests/policemen/presidents saying ridiculous things help the hilarity.
---