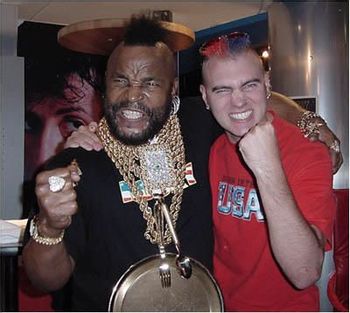 "I'm not here to speculate why
The California Raisins: The Grape Escape
was never released. I'm here to give you the investigative reporting you've come to expect from articles like 'Panda Bears Fucking' and 'Suck This, UNICEF.'"
Sean Patrick Reiley (born June 15, 1976), better known as Seanbaby, is a (former) frat boy, internet comedian, MMA fan, and occasional game developer.
He did a lot freelance work for Electronic Gaming Monthly a long time ago, though it's doubtful anyone would remember that. (EGM is still around, mostly for purely nostalgic reasons. But he still writes for them.) He was most famous for his website, seanbaby.com
. It mostly consists of reviews of NES games and peripherals, him riffing on the old Superfriends cartoons, and his private collection of the Hostess Cupcake/Twinkies tie-in comics.
He is a regular contributor to Cracked. You can also look up a show called Broken Pixels which was as part of the 1up network. They did some "reviews" (that would be called Let's Plays) on obscure Japanese fighting games back in 2006.
He was also a writer on The Adventures Of Chico And Guapo and wrote the dialogue for the UFC Undisputed video games (earning him a Guinness World Record; see Overly Narrow Superlative) and WWE SmackDown vs. RAW 2011. He also designed Calculords, a math-based sci-fi strategy game for the iPhone... and later Android.
Seanbaby is still active on Twitter. Sometimes he posts pictures of him reading the weirdest books he can find to his daughter, Rebel Timecop. His newest project is 1-900-HOTDOG
, a comedy site maintained by both himself and other former Cracked.com staff.
---
Seanbaby provides examples of:
---