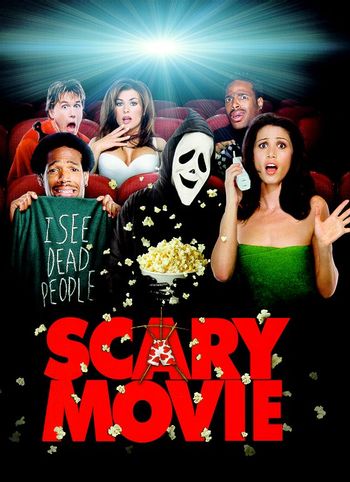 Gail Hailstorm: What would have been your last words to Drew?
Shorty: Run, bitch! RUUUUN!
Scary Movie is a movie series that pastiches horror film tropes in the vein of Airplane! and The Naked Gun.
The series was originally directed by Keenen Ivory Wayans, and was written in large part by his brothers Shawn (playing Ray, pictured top right) and Marlon (playing Shorty, pictured bottom left). The first movie was mainly a parody of the first Scream (by extent missing the point that Scream was itself a parody of horror movies), although it also heavily spoofed I Know What You Did Last Summer and took jabs at various other films, and not necessarily just from the horror genre. Despite the promises of no sequels, a second movie was released under the tagline "We Lied", which mainly spoofed the 1999 remakes of The Haunting and House on Haunted Hill.
Following the departure of the Wayans family from the series, the following two films were directed by David Zucker (who directed, wrote and produced the previously mentioned The Naked Gun and Airplane films alongside his brother Jerry and their partner Jim Abrahams). The third movie combined the storylines of Signs and The Ring, while it had a subplot spoofing 8 Mile. The "fourth and final chapter of the trilogy" mainly parodied The Village, The Grudge and War of the Worlds (2005) while also incorporating a bit of Saw.
After years in Development Hell, a fifth film was released in April 2013, and mainly parodies Mama, Paranormal Activity and Black Swan, while also touching on Rise of the Planet of the Apes, Inception, The Cabin in the Woods and Evil Dead.
These films helped to kick off a new wave of parody films, including the... less well received ones of Aaron Seltzer and Jason Friedberg, who were minor contributing writers to the first film of this series.
Compare Shriek If You Know What I Did Last Friday the 13th, which came out around the same time as the first movie and has a very similar main plotline (the way it's tackled notwithstanding).
---
Provides examples of:
open/close all folders
The series in general
Scary Movie
Scary Movie 2
Scary Movie 3
Fanservice Faux Fight: The film opens with a pillow fight between Katie (Jenny McCarthy) and Becky (Pamela Anderson), both made out as eye candy.
Forgot to Mind Their Head:

Tom bumps his head twice on an overhead lamp while sitting up in bed in the morning.
Cindy comes home to find George passed out at a table. She asks him what happened he says that he doesn't know. He and Cody were playing a fun game when he looked down and...

George: (seeing five dice reading 6 on the table) Oooh, Yahtzee! (stands up and bangs his head on a shelf, passes out)
Scary Movie 4
Scary Movie 5
---