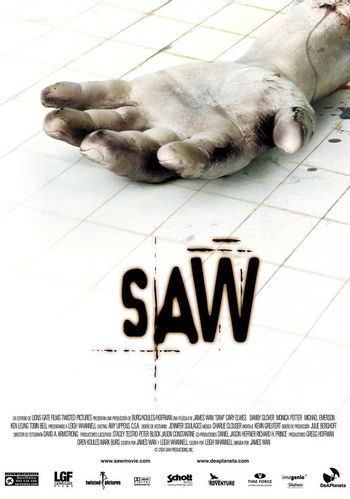 "Let the game begin."
Saw is the first film in the Saw horror film series, directed by James Wan and starring Leigh Whannell (who also wrote the film and co-wrote the story with Wan) and Cary Elwes, with Danny Glover, Monica Potter, Michael Emerson, Ken Leung, and Tobin Bell in supporting roles. The film marked Wan's solo feature directorial debutnote He had been a co-director for a movie called Stygian in 2000, and directed the short film that would become the basis of this film in 2003. Originally premiering in January 2004 at the Sundance Film Festival, it was theatrically released by Lionsgate on October 29 of the same year.
The film opens with two men, Adam Stanheightnote His surname is never stated in the film itself; it was Radford in the original script, Faulkner according to the film's producers later on, and eventually retconned to Stanheight in later Saw films. Due to this, he's sometimes referred to by fans as "Adam Faulkner-Stanheight". (Whannell) and Dr. Lawrence Gordon (Elwes), awakening in a dilapidated bathroom chained by their legs to pipes on opposite sides of the room, unsure of how they got there. Between them rests the body of a man lying in a pool of his own blood with a gun in his hand.
They soon find a series of tapes which tells them that they're in the middle of a game concocted by the infamous Jigsaw Killer, a man who kidnaps victims he deems not appreciating of life and puts them in life-or-death traps (or, as he calls them, "games") that symbolically reflect a sin or flaw in them and require a great amount of pain to be inflicted on themselves or others to escape alive.
Lawrence is ordered to kill Adam before a set time, or else his family — who have been abducted — will be killed. As the two try to find a way to escape, backtracking through their pasts makes them realize that they're far from randomly selected strangers. At the same time, police are trying to investigate Jigsaw and bring him to justice. As both parties continue their searches, the truth is revealed of how tricky and deadly of a foe Jigsaw is.
The film's script was written in 2001, but failed attempts at producing it in Wan's home country of Australia pushed the project to Los Angeles. To attract producers, a 10-minute short (also called Saw) was shot, essentially being a prototype of what would be the feature film's Reverse Bear Trap scene, and gained enough interest for the whole feature film to be greenlit.
The film opened to mixed reception, but at the time was one of the most profitable horror films since Scream, with its return of over $100 million dwarfing its $1.2 million budget. To the shock of some more familiar with the torture porn gorefests the Saw name would later grow synonymous with, this film is more of a cross between a psychological thriller and police procedural with elements of Mystery Fiction, and is considerably sparing with its gore.
A short film titled Full Disclosure Report was featured as a Bonus Material in the film's DVD releases. It follows the titular in-universe documentary TV show addressing the aftermath of the film's events and what has been publicly known from its investigations.
Followed by Saw II.
---
Saw provides examples of:
open/close all folders
#-H
I-Z
2003 Short Film
Decomposite Character: In the final full-length film, David's character is split between several ones:

Adam is played by the same actor as him, Leigh Whannell, and displays a similar attitude.
Tapp takes David's name as his first name.
Amanda is put through the same test as David.
Like David, Zep is a hospital orderly.

No Full Name Given: David's surname is never stated.
Shout-Out: The short film's opening title uses a sound effect from Nine Inch Nails' "Screaming Slave" (a remix of their song "Happiness in Slavery").note
Full Disclosure Report
As Himself: The documentary show's host, played by Rich Skidmore, directly states to have the same name as him.
Documentary Episode: Though it chronologically takes place after the film instead of during it.
---