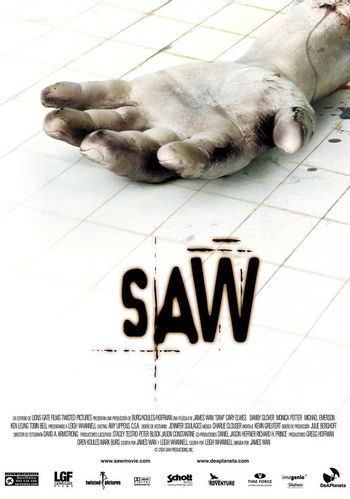 Saw (2004) is the first film in the Saw horror film series, directed by James Wan and starring Cary Elwes.
The film sees two men, Adam and Lawrence, awakening in a dilapidated bathroom chained by their legs to pipes on the opposite sides of the room, unsure of how they got there.
Between them rests the body of a man lying in a pool of his own blood with a gun in his hand. They soon find a series of tapes which tells them that they're in the middle of a game concocted by the infamous Jigsaw Killer, a man who kidnaps victims he deems not appreciating of life and puts them in life-or-death games.
Lawrence is ordered to kill Adam before a set time, or else his family will be killed. As the two try to find a way to escape, police are trying to investigate Jigsaw and bring him to justice. However, he turns out be a very tricky and deadly foe.
The film's script was written in 2001, but failed attempts at producing it in Wan's home country of Australia pushed the project to Los Angeles. To attract producers, a 10-minute short (also called Saw) was shot, essentially being a prototype of what would be the film's Reverse Bear Trap scene, and gained enough interest for the whole feature film to be greenlit.
The film opened to mixed reception but at the time was one of the most profitable horror films since Scream, its over $100 million return dwarfing its $1.2 million budget.
---
This film provides examples of:
---