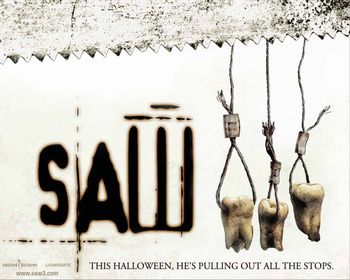 Warning: Spoilers in Synopsis
Saw III (2006) is a film in the Saw horror series.
The police continue their investigation for the elusive Jigsaw, but find that his recent murders seem to go against his modus operandi of giving his victims a chance to live as the recent traps have been design to kill their victim regardless if they complete their task.
In comes the latest victim of Jigsaw's game, Jeff, a man who lost his son and has yet to move on from his death. Jigsaw offers him a chance to move on, but potentially at the expense of the people he feel were responsible in his son's passing. As this goes on, Jigsaw himself is dying from cancer and aided by his apprentice, Amanda Young. To delay his inevitable demise, he kidnaps a doctor named Lynn to operate on him, thus placing Lynn's life on the line as well in the effort to save him.
---
This film provides examples of:
---