WARNING: All spoilers from previous films in the Saw franchise are unmarked here. Read on or go back — make your choice.
---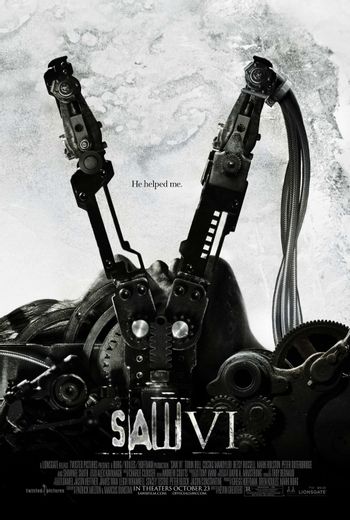 "All you need to know is that from now on, I control all aspects of the game."
— Mark Hoffman
Saw VI is the sixth film in the Saw horror film series, released on October 24, 2009 and directed by Kevin Greutert. The film marked the directorial debut of Greutert, who had previously worked as the editor for all previous Saw films.
Similar to its predecessor, Saw VI is driven by the posthumous effects of the Jigsaw Killer, most currently through the progression of his apprentice Mark Hoffman. While he successfully executes his plan to frame FBI Agent Peter Strahm as the wanted second Jigsaw accomplice, the FBI begins suspecting that there's more to the case than it seems.
Upon their reopening the investigation, they find more and more inconsistencies with the presumption that Strahm is guilty, drawing Hoffman into action to protect his secret identity. Adding to the tension is Jill Tuck, Jigsaw's wife, who has arrived to reclaim and fulfill her late husband's will.
Meanwhile, insurance agent William Easton finds himself the target of Jigsaw's newest game due to his business policy, notorious for finding any and all reasons to turn down clients' coverage. Now, he is given the ultimate say over who lives and who dies as a series of tests forces him to choose between the lives of the people who work under him.
Preceded by Saw V. Followed by Saw 3D.
---
Saw VI provides examples of:
open/close all folders
#-M
N-Z
---
"John's dead, and his work is almost done."
---