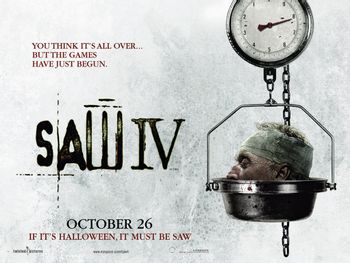 Saw IV (2007) is a film in the Saw horror series.
Warning: Spoilers in Synopsis.
Jigsaw...is dead.
Having been killed at the end of the previous movie, his body is soon sent to the morgue for autopsy. However a tape is found within his stomach and a detective, Mark Hoffman, is called in to investigate. Playing it reveals that though Jigsaw is gone, his work will continue. And indeed a young cop named Daniel Rigg finds himself thrust into one of Jigsaw's games with the lives of Eric Matthews and Hoffman on the line as he makes his way though the city to find clues to their location, finding other unfortunates along the way who are likewise in the midst of Jigsaw's deadly game.
---
This film provides examples of:
---