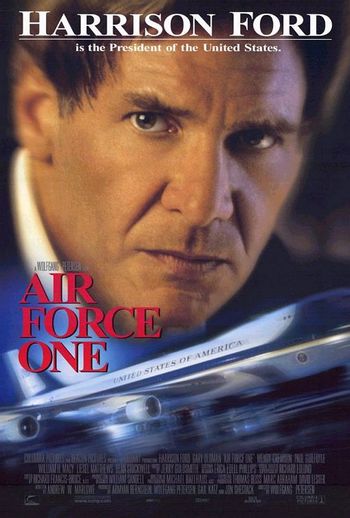 Air Force One is a 1997 film directed by Wolfgang Petersen and starring Harrison Ford.
The United States has just deposed Ivan Radek, the dictator of Kazakhstan. US President James Marshall (Ford) is returning to the United States on the titular aircraft after a conference in Moscow. Little does he know that Radek loyalists have snuck on the plane by disguising themselves as journalists. Shortly after takeoff, the terrorists hijack the plane with the goal of securing Radek's release. Unfortunately for them, Marshall has no intention of surrendering to the hijackers.
The cast includes Glenn Close as Vice President Kathryn Bennett, Wendy Crewson as First Lady Grace Marshall, Liesel Matthews as Alice Marshall, Gary Oldman as Ivan Korshunov and Jürgen Prochnow as General Ivan Radek.
---
Get off my tropes:
open/close all folders
Tropes A-M
Tropes N-Z
---