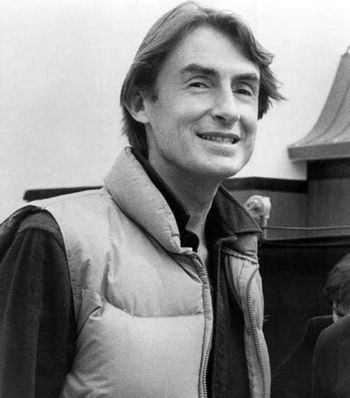 Joel T. Schumacher (born August 29, 1939) is a prolific filmmaker. He got his big break in the 1980s with the teen films St. Elmo's Fire and The Lost Boys, the success of which allowed him to direct two adaptations of John Grisham novels, The Client and A Time to Kill. Other well-known titles of his include 8MM, The Phantom of the Opera and Phone Booth. He also directed chapters 5 and 6 in the hit Netflix series House of Cards (US).
To put it simply, Schumacher has made many films which are not Batman & Robin, a fact which is often conveniently overlooked.
He also directed two music videos for songs off of the soundtracks to his Batman movies: "Kiss From A Rose" by Seal and "The End Is The Beginning Is The End" by The Smashing Pumpkins.
He also has a strange fixation with nipples.
Filmography:
---
Tropes Associated With Joel Schumaker
Author Appeal: Joel is fascinated by the beefcake male body. Makes sense considering his sexuality.
Nice Guy: Despite what people might say about some of his movies, Joel himself is a very kind-hearted, nice, and down-to-earth guy.