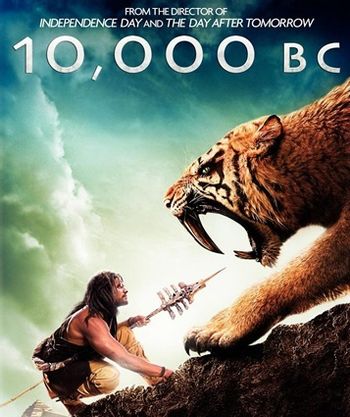 A spectacularly historically inaccurate movie about a mammoth-hunter named D'Leh, ostensibly set in the year 10,000 B.C. During a "great hunt" of a stampede of wooly mammoths, D'Leh appears to slay a gigantic ultra-mammoth and is awarded his tribe's sacred artifact, the White Spear. This allows him to claim any woman in the tribe as his wife, and he chooses his childhood friend Evolet (who was originally from somewhere else, and found by the tribe wandering the tundra half-dead). Then guilt over not actually slaying a mammoth causes him to return the spear, angering said childhood friend.
Soon after, horsemen with swords show up and kidnap many of the villagers, including D'Leh's girlfriend. He and the few surviving hunters set off on a quest to track down these raiders and get their families back.
After traversing some seriously weird terrains, and having a few small adventures along the way, D'Leh is separated from the rest of the party. He ends up at an agricultural village in a desert. There, he manages to impress the local chief, and makes friends with the natives. It turns out that this and many other villages have been victimized by the same raiders that kidnapped D'Leh's people, and taken to "the Mountain of the Gods". The chief somehow concludes that D'Leh is The Chosen One who will overthrow the evil god who is doing this.
Soon after, all the desert tribes gather together to march towards the Mountain of the Gods (which turns out to be a gigantic and work-in-progress pyramid.) There, the prisoners are being used as slaves in a big construction job. The impromptu army attacks and triggers a slave uprising. D'Leh himself kills the false god who's running things, and everybody is freed.
The chief gives D'Leh some seeds, and instructions on how to farm. D'Leh, his wife, and those mammoth-people who remain return to their tundra home to rebuild.
One of the most infamous and blatant examples of Rule of Cool in all of film history. Make sure to bring your MST3K Mantra.
---
This film contains examples of:
Bathe Her and Bring Her to Me: After buying, the warlord takes Evolet to be bathed and clothed by his servants before he tries to seduce her.
Black Speech: The "Egyptians" speak in a language that none of the characters speak or understand.
Chastity Dagger: The lead warlord buys Evolet as his concubine and tries to have a private moment with her. As he prepares to have his way with her, she pulls out a knife to kill him. However, they are then interrupted by the Atlantean's servants who are none too pleased to see that the warlord tried to keep one of their master's slaves for himself.
Combat Pragmatist: Not so much "do anything to win" as "do anything to get out alive," but the warlord kills one of his own men during the terror bird attack so that he can take his horse and get away.
Deconstructed Trope: Baku wants to be a hunter from the very start of the movie, becoming a Tagalong Kid in pursuit of that and is reluctantly accepted in this role by Tic'tic and D'leh, and gets his chance in a metaphorical hunt during the climax after D'leh starts a stampede among the captured mammoths. Furthermore, Baku's motivation in the film is the find and kill the one-eyed slaver as revenge for his mother's death at the start of the film. Finally, in the very last battle in the entire film, he gets his chance: One-Eye is advancing on Baku's friend Tudu and Baku has a spear. He raises his spear, hurls it at his archenemy...and completely misses. What did you think was gonna happen, Baku? You've never used a spear before! Luckily, Nakudu is there to successfully kill One-Eye in the same way that Baku tried.
The Dog Bites Back: A subtle example-among the numerous peoples from disparate countries D'Leh brings with him to the pyramid include a group of giant African warriors. They all sneak in disguised as slaves and an overseer begins continuously whipping their leader, who just crouches down and takes it until D'Leh gives the signal, when he immediately stands up to his full, seven-foot plus height, grabs the overseer by the throat and effortlessly hurls him off the pyramid to his death.
---