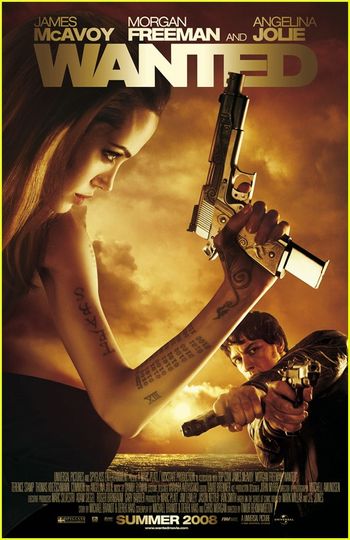 "This is the role Angelina Jolie was born to play. She emerged from the womb already covered in tattoos and eyeliner for the express purpose of playing this character, who immediately entered my pantheon of Chicks I Want to Be Like When I Grow Up. Fox is the reason Angelina Jolie was put on this earth."
Meet Wesley Gibson. Wesley's father abandoned him when he was a week old, and things have gone steadily downhill since. He works for a disgusting boss at a job he hates before going home to a girlfriend who's sleeping with his best friend. But suddenly, Wesley is tapped to join The Fraternity, a league of elite international assassins. He is trained specifically to kill Cross (the rogue Fraternity member who killed his father), mostly by getting the shit kicked out of him by the rest of the team.
Wes learns many plot-relevant skills, including the pretty sweet ability to bend bullets. No, they don't really explain how, and no, they don't really need to. He uses these abilities to take down several nefarious do-badders, until it's finally time to confront Cross. Cue the giant showdown on a moving train... and on a crashing train... and on a falling train. But hey, at least Wesley finally gets his man — or does he?
Of course he doesn't. He just runs headlong into The Reveal, which sets up the real finale. A sequel for the movie is currently in Development Hell according to an official Q&A.
Very loosely based on, or at least named after, a comic-book miniseries by Mark Millar with very different characters, themes, and setting.
There is a game, Weapons of Fate, that draws plot elements from both the comic book and the film (most notably, Wesley in his original costume and the Russian assassin that serves as a Plot Point in the movie). The game starts shortly after the movie ends, and is notable both for being a sequel instead of a recreation, and for taking a year after the movie's release for development with the explicit goal of not falling into the "rushed product to match the movie's release date and hype" trap. Naturally, opinions vary on the success.
---
The Wanted movie and game provides examples of the following tropes:
Don't Think, Feel: When Sloan teaches Wesley how to curve bullets.

Sloan: If no one told you that bullets flew straight, and I gave you a gun and told you to hit the target, what would you do? Let your instincts guide you.

Emasculated Cuckold: The beginning has the protagonist Wesley in a relationship with a girlfriend who is blatantly cheating on him with his best friend, and him being powerless to do anything about it. He later makes out in front of her with his new girlfriend.
Expecting Someone Taller: Sloan to Wesley when they first meet.
Fanservice:

Fox is woken up by the Exterminator exploding a rat and gets out of the bath nude and topless from the back, her tattoos on display.
The sex scenes where the protagonist's "girlfriend" is cheating on him with his "best friend".
Wesley appears shirtless, dripping wet, and wearing a leather jacket at one point.

Failed a Spot Check: Note to self: check the floor for big X's.
Good All Along:

Cross. Turns out that his killing of other Fraternity members was to get rid of Sloan's corruption and his attempts to capture Wesley was to try to prevent his son from becoming Sloan's pawn.

Good Is Not Soft: Fox's general attitude. She believes that killing people is a necessary evil to protect others, that the death of one may save many more.
Gun Kata: And Knife Kata. To give you an idea of the impossible feats performed in the movie...Wesley is first asked to shoot the wings off a couple of flies.

And does

.
Healing Factor: Induced by the pools of wax.
Hitman with a Heart: Wesley Gibson tries to be a good guy. He is reluctant to kill someone just because a machine printing out a piece of cloth says so. He wants to be sure they are really bad people before offing them, but gets sweet talked into it by another assassin. Subverted in the original comic: Wesley is a Supervillain who happily rapes and slaughters because as a Supervillain he has the authority to get away with anything he does.
Improbable Aiming Skills: Played straight with the crazy sniping. Played to an extreme straight with bullet-curving. Weapons of Fate even takes it one step further; bullet curving with submachine guns sets multiple bullets on course to collide with each other when they reach the target, thus producing a frag-grenade effect. The game also has fun with this trope in one cutscene; Cross' Improbable Aiming Skills aren't quite good enough to hit the Immortal, so he

shoots his gun down the barrel, blowing it up in his face

instead.

The film's Book Ends

involve Cross (at the start) and Wesley (at the end) making a successful head shot with a sniper rifle from what is implied to be an insane distance, even by long-ranger sniper standards

.

In Name Only: The movie takes out almost all of the the original comic's story and background, dropping the source material's costumed supervillain trappings in favour of a more grounded (although still heavily stylised) approach. The premise in its most broad strokes stays the same: the main character is a cuckolded loser who is brought into a World of Badass by a love interest due to his long-lost and supposedly deceased father. Beyond that, the story and setting are completely different.
Ironic Echo:

"I'm sorry!"
"I'm the man!"/"He's the man"

It's A Small Net After All: apparently no pages on the in-film Internet contain either the words "Wesley" or "Gibson". It's possible this is one of Wesley's self-deprecating daydreams, like when he imagines the ATM is telling him he's a loser. Also, if you do a search for the name "Wesley Gibson" the only pages that show are those related to the movie or appeared after its release.
Like a Duck Takes to Water: Wesley Gibson. Pathetic cubicle rat = badass assassin. His "panic attacks" make him look like an absolute loser - when someone starts bullying him, he appears to just blow apart at the seams. Turns out that they're actually the the untrained expression of a rare superhuman ability; when stressed, the drastically increased heart rate and adrenaline levels result in Bullet Time - bursts of superhuman strength, speed, and reflexes.
Loser Protagonist: Wesley begins the movie as a man dissastisfied with his life, working a dead-end desk job under a verbally abusive boss and having a cheating girlfriend and "piece-of-shit" bestfriend. After being inducted into the Fraternity, he undergoes an adrenaline makeover into a badass assassin, and regains control over his life.
This Loser Is You: Essentially the theme of the film.

"This is me taking back control of my life. What the fuck have you done lately?"

Lost in Imitation: The movie more closely resembles The Matrix than the source material. Which is unsurprising when you consider how hard it would be to adapt the source material into a movie without it being declared unwatchable.
Luke, I Am Your Father:

Cross to Wesley.
---
"What the fuck have you done lately?"