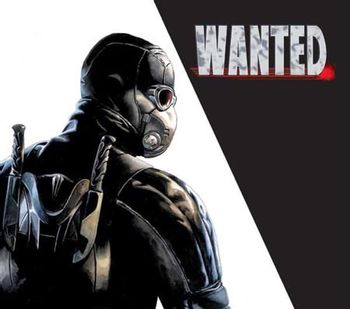 "The whole point of this exercise was to bring a little choice into that sad, pathetic thing you used to call your life."
— Fox
Meet Wesley Gibson. Wesley's father abandoned him when he was eighteen weeks old, and things have gone steadily downhill since. He works for a disgusting boss at a job he hates before going home to a girlfriend who's sleeping with his best friend. But suddenly, Wesley is tapped to join the Fraternity, a shadowy cabal of comic book-style villains who claim they're behind all organized crime on Earth, and that further, Wesley's father was one of them.
And that's when Wesley's life gets much more interesting.
Wanted is a comic series by Mark Millar and JG Jones that operates on one simple principle: superheroes really do exist in our world. Well, at least they did until 1986, when all the supervillains in the world teamed up for the express purpose of defeating every superhero in the world. However, getting rid of the superheroes and divvying the world up into sections to make money unencumbered by spandex-clad do-gooders wasn't enough for the supervillains. Did we mention they are supervillains? They used magic and technology to alter reality and people's memories, removing the superheroes from all recorded history and recall.
Almost.
You see, this still wasn't enough (supervillains, remember). So they took the heroes who had survived and gave them meaningless lives, then left most of the heroes' exploits around... in comic books.
The series has its origins in Millar's childhood, when his older brother convinced the young Mark that Superman and all other superheroes had existed before Mark was born, but had all been killed by the supervillains. And then Mark grew up and became a comic writer. Was originally a proposed reboot for the
Secret Society of Super-Villains, but when rejected, Mark decided to go Darker and Edgier.
---
Wanted (the series) provides examples of:
---