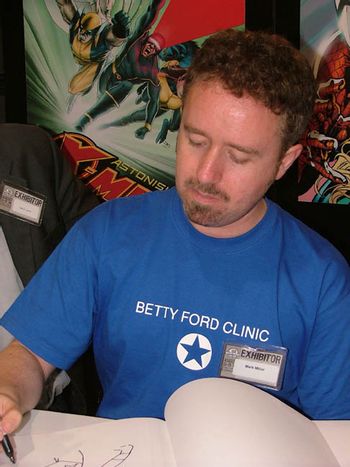 Mark Millar MBE (born 24 December 1969) is a prominent Scottish writer of comic books. Millar has written for many a character, particularly those within the Marvel Universe, as well his own creations in the form of Wanted, Kick-Ass and so forth.
Millar's writing style is known for pretty much taking the concept of Darker and Edgier and letting it off the leash. His stories involving popular superheroes are sometimes cynical, forcing heroes to deal with darker moral themes than usual. On the other hand, some of Millar's earlier super-hero work (on Superman Adventures) and even some of his more recent projects like 1985 are more optimistic in tone. He also runs his own little slice of the internet known as MillarWorld, a comic news/forum where he's more than happy to dole out his opinion on whatever, and has been involved with charity work for children with disabilities.
Similar to other comic book writers and artists known for dark and gritty subject matter, he's got significant detractors, with plenty of critics calling him out for overselling the sociopathy and elaborate deaths of his characters to make a quick buck, and a tendency to gleefully mock his audience for eating it up. He's got a Misaimed Fandom as well, fans who find layered meanings in characters Millar says are meant to be interpreted as comically insane.
All that aside, he is generally praised for advancing (or outright shoving) the medium into depths it normally wouldn't venture.
That said, his comics sell very, very well, despite their divisive reception.
Not to be confused with Frank Miller, Mark Miller or Miles Millar.
---
Selected bibliography:
Millarworld
A set of several independent comics written by Millar. He's confirmed they are all connected, though exactly how some of them are related to the others has not been revealed yet.
<!—index—>
See also Millarworld, Anthology Comic series with stories based on Millarworld series by various creators.
Marvel Universe
<!—index—>
DC Universe
<!—index—>
Fleetway Comics
<!—index—>
Other
<!—index—>
---
Mark Millar's works contain examples of:
---