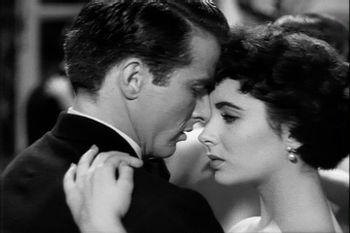 A Place in the Sun is a 1951 drama directed by George Stevens and starring Montgomery Clift, Elizabeth Taylor, and Shelley Winters. It is the second film adaptation of Theodore Dreiser's 1925 novel An American Tragedy (after Josef von Sternberg's 1931 film of that title).
George Eastman (Clift) is a poor relative of the rich Eastman family, which owns a clothing factory. George, having chanced to meet his uncle while working as a bellhop at a Chicago hotel, plays on the family connection and gets an entry-level job in the packaging room, but afterwards is apparently forgotten by the rest of the Eastmans. He strikes up a friendship with a fellow employee, mousy Alice Tripp (Winters, who'd been a blonde sexpot in her previous films and needed a heavy dose of Hollywood Homely to play Alice). Although employee romances are strictly forbidden at the Eastman factory, Alice and George are both lonely, so they start seeing each other anyway.
Right after Alice lets George go all the way, he discovers his Uncle Charles hasn't forgotten about him after all; he lands a promotion at the factory, and with it an invitation to a party that the Eastmans are hosting for the local smart set. There, he meets the ridiculously beautiful and wealthy Angela Vickers (Taylor). They quickly fall in love, and suddenly a glittering future is in reach for George: marriage into wealth and society, advancement in his family's company, everything he wants. Unfortunately for him, Alice is pregnant, and she isn't willing to step aside and be forgotten. George finds himself driven to desperate measures to secure the fulfillment of his dreams.
A Place in the Sun was a huge commercial and critical success, earning nine Academy Award nominations and winning six (including Best Director for Stevens). Winters, who'd spent her career playing hot blondes, started getting more serious roles in films like The Night of the Hunter. Taylor, who'd been a child star for years and then an ingenue, was also confirmed as a serious dramatic actress.
---
This film provides examples of:
---