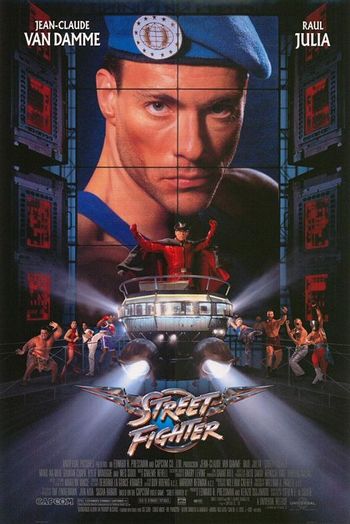 "Van Damme's motivating speech is rightly famous, just as the Hindenburg is a well-known aircraft."
Street Fighter is a 1994 Live-Action Adaptation of the wildly popular Street Fighter fighting game series.
In the remote southeast Asian country of Shadaloo, the power mad dictator General M. Bison (Raúl Juliá) is trying to usurp power and take over first the country, then the world. OF COURSE!!! To fund his megalomaniacal schemes, he's captured several dozen relief workers, who totally are not from the Red Cross, and is holding them hostage for the sum of twenty billion US dollars. It is up to the Allied Nation forces, led by Colonel William F. Guile (Jean-Claude Van Damme), to get in there, take out Bison, and rescue the hostages. And they have three days to do so before hostages start dying. His immediate subordinates include Lieutenant Cammy (Kylie Minogue) and Sergeant T. Hawk (Gregg Rainwater).
Ace reporter Chun-Li Xiang (Ming-Na Wen), joined by former champion boxer Balrog (Grand L. Bush) and sumotori E. Honda (Peter Navy Tuiasosopo) are sucked into the action, while con-men smugglers Ryu and Ken (played by Byron Mann and Damian Chapa, respectively) conduct shady business deals with local Muay Thai god Victor Sagat (Wes Studi). They, along with the cage fighter Vega (Jay Tavare) are thrown in jail. Meanwhile, Guile's old buddy Carlos "Charlie" Blanka (Robert Mammone) is used in Dr. Dhalsim's (Roshan Seth) Super Soldier project, to turn him into a green-skinned, super powerful monstrosity. Eventually all parties involved converge on Bison's base for the epic final showdown.
Reasons for the story not matching up with the games are plentiful, including difficulty with the myriad of characters and the story itself being very vague at that point, so the writers had to make do with what they had. Adding to this was Executive Meddling from Capcom, who wanted every character possible to be in the movie.
The film is notable for the late Raúl Juliá's portrayal of M. Bison, which would be his last major role. He took the job knowing he was terminally ill with stomach cancer and let his children pick out which movie would be his last, and apparently wanted to go out on a loud note for his final performance.
Aspects of the movie were expanded on in the cartoon Street Fighter, which came out shortly after the film. A video game adaptation of the movie was also released, Street Fighter: The Movie, as were a junior novelization and DC comic book adaptation that included some deleted scenes and an expanded storyline for Ryu and Ken. Fifteen years would pass before another live-action Street Fighter film would be made, Street Fighter: The Legend of Chun-Li.
Not to be confused with Sonny Chiba's The Street Fighter.
---
This film provides examples of:
---
---