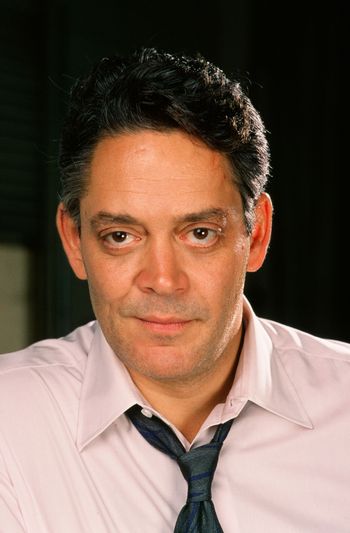 His name is Raúl Juliá, and he has seen evil! He has seen horror! He has seen the unholy maggots which feast in the dark recesses of the human soul!* They're at camp He beheld Satan as he fell from Heaven! Like Lightniiing!!! Raúl Juliá has seen all this, troper. But until today, he has never seen... you!
Raúl Rafael Juliá y Arcelay (March 9, 1940 – October 24, 1994) was a Puerto Rican actor who gained fame through his stage performances on- and off-Broadway. Indie film lovers will probably know him as Valentine from Kiss of the Spider Woman, while mainstream audiences will most likely recognize him from his role as Gomez Addams in the two film adaptations of The Addams Family. He was also the lead in the PBS movie Overdrawn at the Memory Bank, but don't hold that against him; he only accepted the role because he wanted to help support public broadcasting.
On stage, he was a regular with the New York Shakespeare Festival, which produced the rock musical version of Two Gentlemen of Verona in which he played Proteus. He also played Guido Contini in the original Broadway production Nine (Musical), and starred in revivals of Where's Charley?, The Threepenny Opera and Man of La Mancha.
His last big-screen role was in the Street Fighter movie, where he played Big Bad M. Bison with all the hammy aplomb one would expect for a role like that one (in a movie like that one!). While the movie itself isn't considered quality cinema by any means, many would agree that Juliá's performance alone is enough to make the movie So Bad, It's Good instead of merely bad and his performance was praised enough that he received a posthumous nomination for Best Supporting Actor in Film during the 1994 Saturn Awards for it. His children were huge fans of the video games, so he selected that role in order to give them a film they could enjoy, knowing that it would likely be the last feature he would ever do, as he had been diagnosed with stomach cancer three years prior. Sadly, he was right, dying of a stroke two months before the film premiered. His actual last appearance was in the TV movie Down Came a Blackbird, which was filmed two weeks before his death, and while on his deathbed (not that he knew it at the time), he was reading through the script for Desperado, literally working almost until the last minute.
Juliá was posthumously given several awards for his performance as Chico Mendes in the 1994 Made-for-TV Movie The Burning Season.
---
Roles on TV Tropes:
open/close all folders
Film roles
Television roles
Theatre roles
---
Tropes associated with Raúl Juliá:
---
"Vaya con Dios."
---