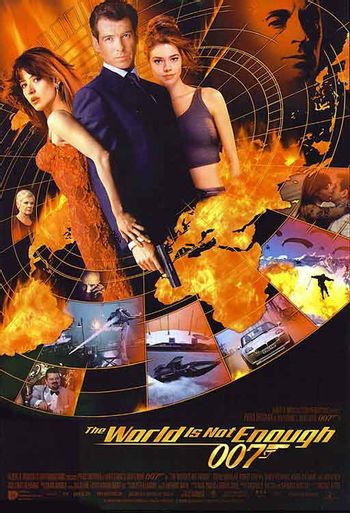 "There's no point in living if you can't feel alive."
— Elektra King
The one where Denise Richards plays a nuclear physicist.
The World Is Not Enough is the nineteenth Eon Productions James Bond film, the last of the 20th century and the third starring Pierce Brosnan, as well as the first one to be released by Metro-Goldwyn-Mayer. It was directed by Michael Apted and was released on November 26, 1999. Garbage performed the Title Theme Tune.
Bond is assigned to watch over a once-kidnapped daughter of a Ruritanian oil baron after he dies securing money for her release. "Renard the Anarchist" is quickly deduced to be the likely culprit. MI6 tried to assassinate him before, but you can't keep a good terrorist down: it only resulted in lodging a bullet in Renard's brain, which is slowly killing him as it moves inwards but is also destroying all of his senses. Renard can't smell or taste anything and, crucially, he can't feel pain.
Meanwhile, four rival oil pipelines are being built across Eurasia. The mogul's daughter, Elektra King, owns the British pipeline and is everyone's favourite heiress, meaning that Bond needs to protect her, even though something just doesn't add up with her plans.
Features:
Bond jumping out of a window using a window shade cord.
Bond driving a speedboat out of the MI6 building.
The old Q (Desmond Llewelyn) retires after 36 years of service.
A ski chase with paragliding snowmobiles as pursuers.
M playing an integral part in the plot, a first for the series.
The movies' first (and so far only) female Big Bad. Rosa Klebb from From Russia with Love was the film's adversary, but she was second fiddle to SPECTRE's Number One. The title character of Octopussy is initially implied to be the main villain before she turns out to be an ally. Adrian Malprave was the lead villain in the Agent Under Fire video game, which came out a couple years after this movie.
Bond executes a woman in cold blood; a rarity.
A groan-inducing pun at the end involving a grouchy scientist's cheery name.
Preceded by Tomorrow Never Dies and followed by Die Another Day.
---
This film contains examples of:
---
I never miss.
---