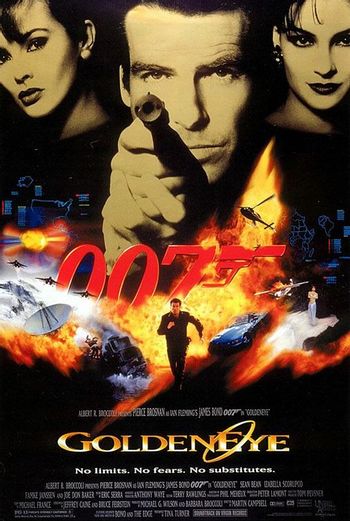 M:
You don't like me, Bond. You don't like my methods. You think I'm an accountant; a bean counter more interested in my numbers than your "instincts."
Bond:
The thought had occurred to me.
M:
Good. Because I think you're a sexist, misogynist dinosaur — a relic of the
Cold War
, whose boyish charms, though wasted on me, obviously appealed to the young woman I sent out to evaluate you.
Bond:
Point taken.
The One with... the tank chase.
GoldenEye is the seventeenth Eon Productions James Bond film, released in late 1995. It's the first to be released after a six-year hiatus following Licence to Kill, the first set mostly in Russia and Cuba, the first made in The '90s, the first to be directed by Martin Campbell, and the first to star Pierce Brosnan. Tina Turner performed the title theme, which was written by Bono and The Edge.
The film opens in 1986: Bond and his partner, Alec Trevelyan a.k.a. 006 (Sean Bean), are dropped into Arkhangelsk to take out an illicit weapons depot, but things get sticky when an alarm is tripped, and Trevelyan is executed by the ruthless Colonel Ourumov (Gottfried John). Bond still manages to destroy the depot and escapes.
Cut to the present day, where spies have traded in their Walther PPKs for pocket protectors, and MI6 is being retrofitted for the 21st century — with a bureaucracy to match. Bond is sent to investigate the reactivation of an old Soviet space weapon, the titular GoldenEye, which has fallen into the hands of some wily ex-Soviets—or it appears.
The Bond Girls for this go-round include Natalya Simonova (Izabella Scorupco), a Russian programmer who knows more about the theft of GoldenEye than is healthy, and Xenia Onatopp (Famke Janssen), a former fighter pilot and current sadist who crumples men between her thighs.
This is probably the most timely and self-critical of Bond films, with a scene of M chewing out 007 for being a sexist pig and a relic of a war which is over. (There's a reason why they kept Judi Dench around for the Brosnan and Craig runs.) Character after character give him scathing speeches about his womanizing and ruthless attitude. Bond has always been about the insecurities of an older generation, since gentleman spies stopped being a thing precisely before the first film came out. Bond as a series had run out of anything new to do or say, that's why almost every film that followed Goldfinger (and half of Brosnan's movies to be fair, even though he's Irish) were about watching a charming British actor and an attractive actress fight a hammy villain. Bond's search for meaning in a world without the dusty notions of nationhood might help explain why GoldenEye is still so beloved. It's also the first Bond film to mention Bond's dead parents, who were revisited in the later Craig films.
A quick note on the origin of the title: it's named after Fleming's house in Jamaica, Goldeneye, which is in turn named after Ian Fleming's (who was at the time in British Naval Intelligence) plan for maintaining control of Gibraltar in the event that Francisco Franco's Spain entered World War II on the side of Nazi Germany, which in turn is named after Carson McCullers' novel Reflections in a Golden Eye. Bonus confusion: the fictional GoldenEye should not be confused with the documentary film Golden Eye, which is about the aforementioned house in Jamaica. Especially not if you're a British newspaper giving away the latter on DVD bundled with the paper itself, and supporting said offer with a TV advertising campaign. Looking at you, Daily Mail.
For the mega-hit Nintendo 64 game adaptation, see here. For the Nintendo Wii remake, see here. For the arcade pinball game from Sega, see here.
Followed by Tomorrow Never Dies.
---
This film contains examples of:
---