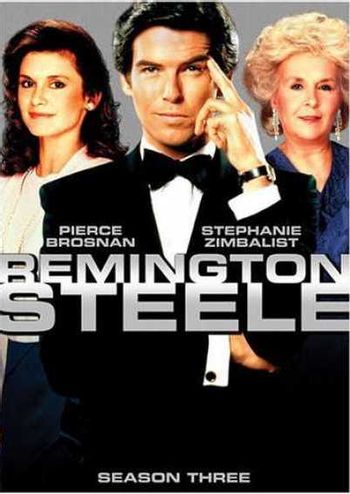 "Try this for a deep, dark secret: the great detective, Remington Steele? He doesn't exist. I invented him. Follow. I always loved excitement, so I studied, and apprenticed, and put my name on an office. But absolutely nobody knocked down my door. A female private investigator seemed so...feminine. So I invented a superior. A decidedly
masculine
superior. Suddenly there were cases around the block. It was working like a charm...until the day
he
walked in, with his blue eyes and mysterious past. And before I knew it, he assumed Remington Steele's identity. Now I do the work, and he takes the bows. It's a dangerous way to live, but as long as people buy it, I can get the job done. We never mix business with pleasure. Well, almost never. I don't even know his real name!"
A 1982–87 NBC series about private investigator Laura Holt and the handsome, nameless conman with a fascination for film noir who strolled into her life and very publicly took over the identity of her fictional "employer". To the surprise of both Laura and her partners Murphy Michaels and Bernice Fox, the conman with five passports (all in the names of Humphrey Bogart roles) turns out to be not too bad at detective work, although the degree to which he relies on the plots of old movies as his inspiration infuriates just about everyone.
After the first season, Murphy and Bernice were replaced by a single character, Mildred Krebs, to allow more stories to focus on the growing chemistry and hesitant romance between Laura and "Steele". Eventually Steele became a considerable investigator in his own right, relying less on his knowledge of movies and more on the experience he'd gained with Laura.
Remington Steele made a lasting star of Pierce Brosnan and won him the role of James Bond. Not without some controversy, though; Brosnan was cast in The Living Daylights after Steele had been cancelled, but as soon as the announcement had been made, NBC uncanceled the show at the very last minute, using contractual obligation to force Brosnan to give up the role and return to TV. Timothy Dalton ended up playing Bond in that film, and Brosnan had to wait for almost ten years to play Bond in 1995's GoldenEye. The show also made a lesser star of Stephanie Zimbalist (daughter of Efrem Zimbalist Jr.) for the duration of its run.
Originally written as a dramedy, with Steele intended to be a comic-relief figurehead while the focus was on Laura, but Brosnan's charisma and the chemistry between him and Zimbalist took over the plots.
One of the show's more prominent quirks was the fact that it always used the word "Steele" as part of every episode title. At first these were clever and/or amusing puns often related to the plot — "Steele Crazy After All These Years", "You're Steele The One For Me" — but as time went on the writers ran out of good 'steel/steal/still' puns, and took to just inserting the word into titles, seemingly at random ("Small Town Steele"). In one episode they managed to use both characters' names ("Red Holt Steele").
The trope The Real Remington Steele, while not occurring in the show, takes its name from it.
---
This show provides examples of:
---